Contest inspires Chinese youth
Updated:2012-04-08 20:28
By Wang Zi and Guo Anfei (chinadaily.com.cn)
KUNMING, Yunnan – Chen Jiehao from the Communication University of China, outshone 23 other finalists to claim the title of the 21st Century Cup National English Speaking Competition on Sunday afternoon that was sponsored by China Daily.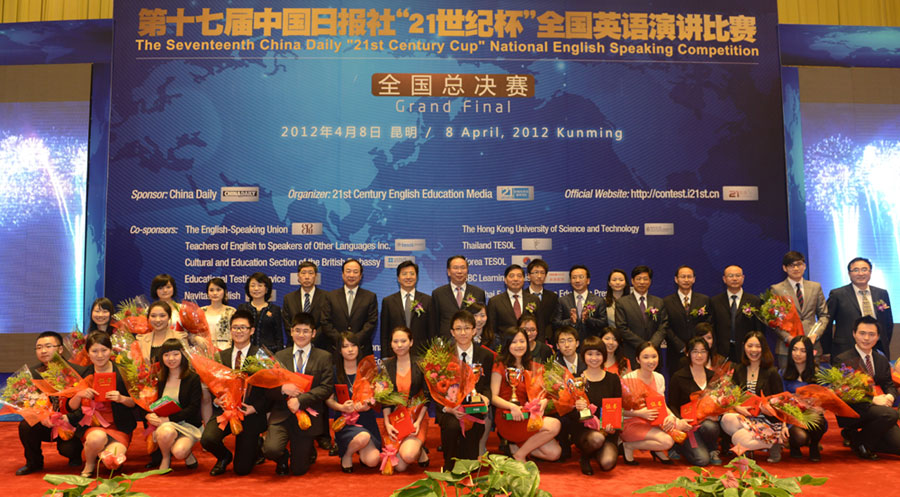 Contestants pose a photo with leaders after the 21st Century Cup National English Speaking competition in Kunming, Yunnan province on April 8, 2012. [Photo/Chen Yuzhou]
"I feel overwhelmed to win the top award and I would like to extend my gratitude towards my tutor", said the 20-year-old who won the top award of the 17th edition of the contest at the Yunnan Convention Center.
Chen Jiehao triumphed over the 100,000 participants from 19 provinces around the country in this year's competition that discussed "Cultural Clashes versus Coexistence between China and the West" in their prepared speech. For over 10 months, contestants nationwide have whittled down to Sunday's 24 through a series of online, campus and regional rounds.
Chen is to represent China at the International Public Speaking Competition, launched by the English-Speaking Union, in London this May. Li Sitong from the Tianjin No 3 High School who won the championship from the senior high school session a day before will also present at the competition.
Du Yubo, vice-minister of education, praised the competition's endeavors to push forward the country's English education quality.
"The competition's experience in developing students' independent thinking and character is of great referencing value to the educational reform and innovation in China's English teaching field," said Du.
"I have seen a steady improvement of standards in the competition during these years and the level of English proficiency of contestants has also progressed," said Stephen E Lucas, professor of Communication Arts at the University of Wisconsin, and one of the question masters at the contest.
Wang Guoqing, vice-minister of the Information Office of the State Council, presented Chen Jiehao with her trophy at the awarding ceremony. Wang sees the competition as a great tradition to showcase the Chinese youth's eagerness to improve cross-cultural communication.
"Students' desire to communicate with the world is embodied not only in learning the language but also in their practice of exchanging of ideas, free expression and enhancing mutual trust between China and the world," said Wang.
Gao Feng, vice-governor of Yunan province, extended invitations to young people in pursuit of a promising career in Yunan.
"Yunan's prospect to become more open will serve as an ideal platform for young talents to make the best use of their international horizon, social responsibility and professional expertise," said Gao.
Besides Chen Jiehao's top award as "China Daily 21st Century Most Promising Speaker", the competition has also offered prizes of study tours in United States, Australia and Hong Kong.