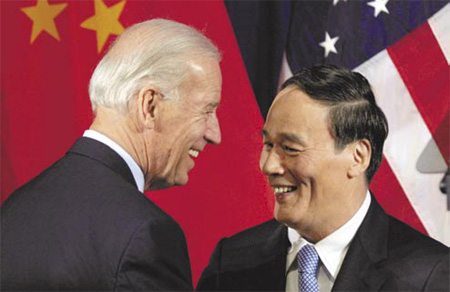 Vice-Premier Wang Qishan is greeted by US Vice-President Joe Biden during the opening session of the China-US Strategic and Economic Dialogue in Washington on Monday. [Photo/Agencies]
WASHINGTON - China and the United States are likely to announce Tuesday dozens of deals and other agreements reached by the countries' top government officials during the third round of the Strategic and Economic Dialogue in the US capital, Minister of Commerce Chen Deming said.
"We have more in common than our differences," he said Monday at a news conference on the sidelines of the two-day talks. "Cooperation is the mainstream in China-US relations."
As co-chair of the Economic Track of the talks, Chinese Vice-Premier Wang Qishan and US Treasury Secretary Timothy Geithner, opened Monday's talk by laying down the priorities of each country.
The Chinese "hope that the US side will set a clear timetable and roadmap for implementing the dialogue outcomes, take credible steps to relax high-tech export controls vis--vis China, recognize China's market economy status, accord fair treatment to Chinese companies investing in the US and refrain from politicizing economic and trade issues," Wang said.
The US set three priorities for the talks, which included pushing for China to make its currency exchange rate more flexible, push ahead with financial sector reforms and enable US businesses to compete on the same footing with Chinese businesses in China.
Both countries have potential in opening up new investment opportunities, Chen said, adding that the two countries can expand cooperation in such service sectors as finance, education, sports and medicine.
The two sides can also explore new and in-depth collaborations in energy, environment, biology, information, tourism, new materials, space and aeronautics, he said.
On the first day, the members focused on how to promote healthy bilateral trade, improve the investment environment in each country, explore new areas of bilateral cooperation and enhance collaborations on global and multilateral issues, said Chen, who made a keynote speech during the economic track.
They also discussed how other financial reforms would "put more money into the hands of Chinese consumers" as China is pushing for a more consumption-led economy, a senior US administrative official briefed the media on background.
Tuesday's talks in the Economic Track will focus on rebalancing both economies and strengthening recoveries, Chen said.
High-tech exports
During Monday's talks, the US side asked China to standardize and regulate its government procurement measures at the local level to "de-link" its innovation policies with government procurement.
China stressed that many American firms have lost business opportunities and market share in China as a result of US government imposing control on high-tech exports to China.
"It is not fair for China and for US businesses," Chen told the media.
The US has imposed restrictions on more than 2,000 items, with mandatory requirements to clarify end-user and end-use in China before US manufacturers can export these items to China, Chen explained.
The US has excluded China from its new exports license exception, dubbed the Strategic Trade Authorization, which it has granted to 164 countries including its allies and "friendly" countries.
Such exclusion does not agree with the consensus that Chinese President Hu Jintao and US President Barack Obama agreed to in January to forge a "new relationship", open a "new position" and give a "new strength" to China-US relationship, Chen said.
National security
The US also questioned China's new national security review of foreign direct investment, which began in April.
Chen said China will make sure that its security review process is "open and transparent".
China adopted the new security review regime to safeguard China's national security, he said, adding that China "looks at the US as a teacher", as far as ensuring national security is concerned.
China also asked the teacher to do the same; to make its security reviews of Chinese firms conducting business in the US transparent and fair.
The Committee on Foreign Investment in the US (CFIUS), a group headed by the Treasury Department with members from the defense and intelligence departments, conducts regular screenings on Chinese firms trying to expand in the US through mergers and acquisitions.
Chen said quite a few Chinese firms have failed to pass the CFIUS review. Two years ago, an electronic products supplier was told that it could acquire a small US electronic firm, but two years later, it was told to "withdraw".
While declining to name names so as not to affect these firms' businesses in the US, Chen said CFIUS has failed to release how the group conducted their review in a transparent and fair manner.
Chen admitted that China lacks experience in carrying out its new security review regime.
Both sides should show flexibility and seal the agreement on a bilateral investment treaty, he said. "China hopes to learn from the US experiences and lessons to enhance the environment for foreign investors," Chen said.