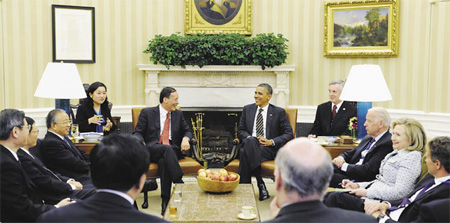 Vice-Premier Wang Qishan and his delegation are greeted by United States President Barack Obama on Monday after the first day of the third round of the China-US Strategic and Economic Dialogue in Washington. The two nations will discuss a wide range of bilateral and global issues at the dialogue. [Photo/ Xinhua]
Both nations agree to bolster strategic trust, foster relations
WASHINGTON - China and the United States got off to a good start on Monday, the first day of the third round of the Strategic and Economic Dialogue (S&ED) in the US capital.
The discussions, covering a wide range of bilateral and global issues, were described as "productive, constructive, candid and honest" by a senior US administration official while summarizing the day's progress.
Calling it an innovation, the official said the presence of senior military officials at the talks would go a long way in boosting the strategic trust between the two nations and two militaries. The official, however, said existing communication channels between the two militaries would continue and the current talks were not a replacement for it.
Following a day of the dialogue, US President Barack Obama on Monday met Chinese officials, discussing issues including bilateral trade.
China and the US have far more shared interests than differences, and nothing can hold back the momentum of cooperation, Chinese Vice-Premier Wang Qishan said at the S&ED.
Related readings:


 Vice-premier's speech at joint opening of China-US dialogue


 bama meets with co-chairs of China-U.S. dialogue


 nhancing mutual benefit theme of US-China dialogue


 hina-US high level dialogue kicks off in Washington
Wang and State Councilor Dai Bingguo are representing China at the dialogue, while Treasury Secretary Timothy Geithner and Secretary of State Hillary Clinton are representing the US.
The two-day talks cover topics such as trade, investment and finance as well as foreign policy.
Bringing stability and countering terrorism policies to Pakistan and Afghanistan also figured prominently in deliberations between the two sides.
Both sides also expressed their desire to build on the progress made during President Hu Jintao's visit to Washington in January. Hu's visit helped smooth relations that had been strained last year over issues such as the US arms sales to Taiwan.
"With vision and foresight, the two presidents opened a new page in China-US relations," Wang said.
Leaders from both sides sounded upbeat on the talks, emphasizing trust and common ground while trying to narrow differences.
In his remarks, Geithner said, sound China-US relations will benefit the two nations and the global economy.
"Our ability to work together is important to the overall health and stability of the global economy.
"Thanks in no small part to the actions of the US and China, we have put out the worst of the financial fires and the world economy is growing again," Geithner said.
He also used a Chinese saying to urge China and the US to "stick together through thick and thin".
Clinton said the annual talks aim to build a stronger relationship, "to weather through disagreements when they arise, and narrow areas where our interests diverge". But she noted, "success depends on translating good work in talks into action".
"We need to better understand each other, build trust to work to avoid misunderstanding and miscalculation," said Clinton.
She did not refrain from mentioning obstacles in relations, as "some in the US see China's growth as a threat, while some in China worry America seeks to constrain China".
"A thriving US is good for China, and a thriving China is good for the US," she said.
US Vice-President Joe Biden said the two sides "have to be honest with each other and find common ground, including on sensitive issues, to avoid miscalculation".
He welcomed Chinese investment in the US and the more than 50,000 jobs it created.