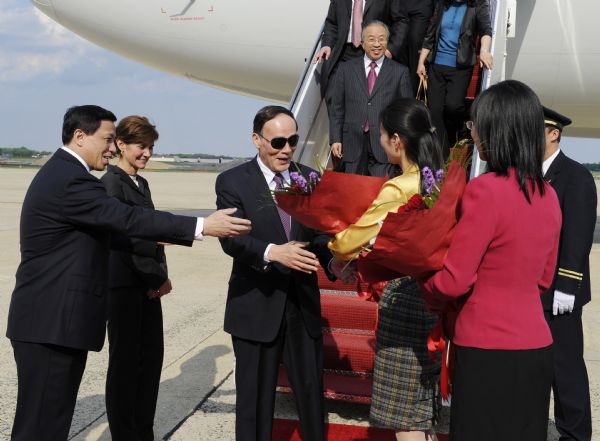 Chinese Vice Premier Wang Qishan (C, Front) and State Councilor Dai Bingguo (C, back) arrive at Washington, the United States, on May 8, 2011. [Photo/Xinhua] 
WASHINGTON - Chinese Vice-Premier Wang Qishan and State Councilor Dai Bingguo arrived in the United States capital on Sunday afternoon for the third round of the China-US Strategic and Economic Dialogue which will take place Monday and Tuesday.
Dai will co-chair the Strategic Track discussion with US Secretary of State Hillary Clinton, while Wang will co-chair the Economic Track talk with US Treasury Secretary Timothy Geithner, each as a special representative of their respective presidents.
Related readings:


 Special Coverage


 Sino-US dialogue: a chance to deepen trust, co-op

 China-US dialogue a serious business

 Important dialogue for China-US ties
Chinese and US innovation experts exchanged views ahead of the Strategic and Economic Dialogue, with suggestions that included US experts visit China on a fact-finding mission to look at China's indigenous innovation policies and practices.
"It is part of the ongoing China-US dialogue to sort out our differences over innovation," Zhao Gang, a member of the China-US innovation experts group, told China Daily on Saturday.
Convening on Friday as a sub-dialogue to the Strategic and Economic Dialogue, the group focused on policies and practices in the fields of innovation and intellectual property rights protection.
The issues have become focal points that have strained China-US relations during recent years.
"There are certain areas of tension, where the US side believes there is a differential preference given to China's firms when it comes to innovation advantage," Robert D. Atkinson, co-chair of the experts group and president of the Information Technology and Innovation Foundation, told China Daily.
The Chinese experts, meanwhile, raised the issues of US discrimination against Chinese firms doing business in or exporting to the US. Zhao cited the case of Huawei, a leading Chinese telecommunications company that has failed to seal major deals in mergers and acquisitions.
US Secretary of Commerce Gary Locke is reportedly said to have personally intervened to block Huawei from winning a multibillion-dollar network infrastructure contract from Sprint Nextel in October.
"There is also rampant use of Section 337 to impede Chinese firms from expanding their sales and production in the US as soon as they are seen as successful," said Zhao, who is also a research fellow at the Chinese Academy of Science and Technology for Development.
He cited the General Protecht Group, a Zhejiang-based electrical products manufacturer, that was forced to defend itself in five lawsuits filed by Leviton Manufacturing of New Mexico during the past six years for alleged patent infringement because its US competitors resorted to Section 337.
Under Section 337, which originated in the US Tariff Act of 1930, anyone who owns and uses an intellectual property right in the US can file a complaint to block its competitors from entering the US on grounds of patent infringement.
General Protecht won the lawsuits but other Chinese businesses have simply decided to do business elsewhere, Zhao said.
China's policies to boost innovation for homegrown designs or creations have also become a bone of contention in China-US relations.
Locke, among others including politicians and business representatives, has repeatedly attacked China for its "indigenous innovation" policies.
Locke said last week that China has "pursued policies that make investment by foreign companies especially challenging; such as the indigenous innovation policies that shut foreign companies entirely out of some industries or make unacceptable technology transfer provisions a condition of operating in China".
The US has "misread China's innovation policies because something is lost in translation", Mu Rongping, also a member of the China-US innovation expert group, told China Daily.
"'Indigenous' means 'local', and 'local' is wrong," Mu said, adding that the use of the phrase "independent innovation" is also wrong.
China's innovation policies are open, he said.
In the Chinese context, zi zhu chuangxin, the name of the innovation policy, was put forward to accomplish two goals.
One is to guide scientists to blaze their own trails and come up with their own projects that serve the developmental needs and tackle challenges in China, said Mu, who is director of the Institute of Policy and Management at the Chinese Academy of Sciences.
The policies were put forward to encourage Chinese researchers to move away from only following the "hot topics" set out by their international counterparts, which may not have developmental and economic relevance in China, Mu explained.
The other objective is capacity building, Mu said. Many firms said they owned intellectual property but, in fact, they had purchased the property but haven't developed the capacity to create their own.
China Daily