Chinese courts deny lobbyists for judicial justice

(Xinhua)
Updated: 2011-03-12 22:19

BEIJING - China's chief justice, Wang Shengjun, pledged on Friday to intensify the fight against corruption through innovative regulations in a bid to ensure clean and impartial justice.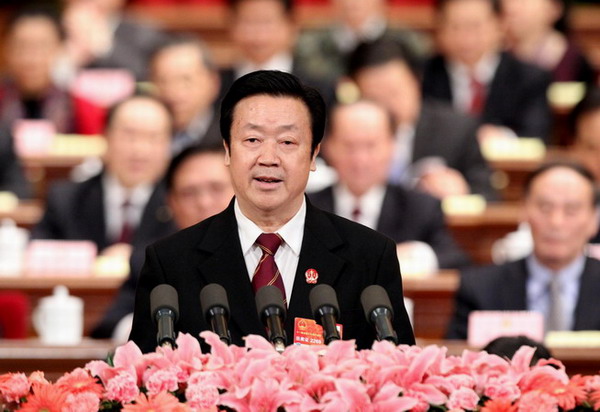 Chief Justice Wang Shengjun, president of the Supreme People's Court, delivers a report on the court's work at the Fourth Session of the 11th National People's Congress at the Great Hall of the People in Beijing on Friday. [Photo/Xinhua]
He made the remarks in the work report of the Supreme People's Court (SPC) that was delivered during the annual session of the National People's Congress, China's top legislature.
In its latest innovation in the anti-graft system, the SPC introduced, in February, a regulation to prevent court officials from hampering justice during trials.
Related readings:


 China introduces judicial interpretation against fake notes crime


 Judicial officers put under spotlight


 Fake money crime has new judicial interpretation


 Beijing, Washington heighten judicial cooperation
Wang said that the regulation was introduced because using money or personal relations to interfere with trials, which sparks public outcries, has been "a persistent disease" for ensuring judicial justice.
Chu Jieyin, an award-winning legal aid worker and a lawyer for a law firm in East China's Anhui province, acknowledged the influence of personal relations in some trials.
"Some judges even collude with lawyers during trials," Chu said. "It greatly hampers judicial justice."
According to Zhang Jinbao, an associate professor with the University of Economics and Law in Central China's Henan province, judges actually have no say in the verdicts in some cases.
"They have to mete out the verdicts based on the decisions of the court's trial committee or personal opinions of some senior judges," Zhang said.
The newly introduced regulation, however, is expected to curb such abuses of power.
The new rules clarify the limits of authority for senior judges and law personnel in higher level courts and requires a record of every step when attending to individual cases. The rules also ban judges from overstepping their authority.
"The measure will help to build a judicial system in a more scientific and impartial way," Zhang said.
Chu Yinjie believes that the new regulation would be significant in overhauling the team of judges, ensuring social justice and preventing corruption.
"At present, it's crucial for the top authority to work out detailed regulations to conduct effective supervision to ensure thorough implementation of the new rules," Chu said.
To maintain a clean and fair judicial system, he proposed drawing experience from the jury system in foreign countries and stepping up supervision of lawyers.
Apart from the efforts of the top court, local Chinese courts also contributed on the fight against corruption.
The Henan Provincial Higher People's Court created profiles on clean law enforcement for the region's 10,809 judges.
Local authorities in Henan investigated 188 judges and other law workers who violated rules in 2010. Among them, 184 were disciplined while 4 were given criminal penalties for bribery, embezzlement and abuse of power.
Moreover, the Municipal People's Court of Hefei, the capital city of Anhui province, introduced a series of anti-graft regulations, including codes of ethics for both judges and lawyers.
In addition, the superior court in Southwest China's Chongqing municipality introduced a regulation in 2010 requiring judges whose spouses and children are lawyers in the same jurisdiction to take jobs elsewhere.
Six such judges have been relieved from their law enforcement posts and five others chose to work elsewhere, according to Qiao Ya, the leader of the disciplinary group of the Chongqing superior court.