Treatment fees covered for people with mental illnesses

By Wang Huazhong (China Daily)
Updated: 2011-03-11 08:38

BEIJING - Treatment fees for millions of people with mental illness - diseases that caused a spate of violent assaults last year - will be compensated by the nation's medical insurance program, Minister of Health Chen Zhu said on Thursday.

"We are making policies to cover the diagnosis, treatment and care of psychotic patients in the medical insurance system," Chen said before attending the annual plenary session of the National People's Congress on Thursday.

Related readings:


 China ramps up healthcare spending


 China invests heavily in building medical insurance system


 Urban health insurance covers 45m migrants


 Top legislature adopts Social Insurance Law
"Moreover, we shall pay special attention and consideration to the patients and their families when we strive for equal public health services."
However, Chen did not elaborate on whether the medical bills would be covered by the New Rural Cooperative Medical Care System - a health compensation system separated from the medical insurance program into which most of the urban population pays a higher monthly premium.
Currently, more than 100 million Chinese suffer from various mental illnesses, including 18 million seriously ill patients, according to ministry estimates.
A shocking majority - about 80 percent in the serious category - have not received medical aid largely due to limited access to high-cost quality resources, experts estimated.
Vice-Minister of Health Yin Li last year announced the ministry was planning to renovate or expand 550 psychiatric hospitals and departments across the country within two years.
Besides the expected financial support to "enhance efforts to cure", Chen said efforts will also be enforced to "manage patients with serious mental illness".
Social risks posed by people with mental illness are too serious to ignore.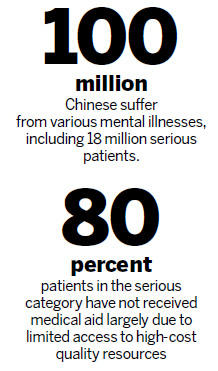 According to Xinhua News Agency, about 82 percent of the 1,515 people who were accused of criminal offenses and underwent psychiatric evaluation at a Beijing hospital from 1984 to 1996 suffered from mental illnesses.
Another report shocked the nation last December when it was revealed that dozens mentally disabled men from Southwest China's Sichuan province had been forced to work without pay for years in a sweatshop in Northwest China's Xinjiang Uygur autonomous region.
Though police officers randomly send people they deem to be mentally ill to psychiatric hospitals for compulsory treatment, cases occasionally surface where law enforcement officers abused their power and sent mentally healthy people to asylums, according to the Psychosis and Social Observation and the Shenzhen-based Hengping Institute.
Chen's comments on Thursday re-emphasized the administration's efforts to uphold public safety as it ordered that the management of patients with serious mental illness be improved nationwide from last year.
At a local level, the health department in Central China's Hubei province also launched a large-scale health-screening program to improve services for those with serious mental disorders following a spate of brutal murders including the mass killing of school children.