New surveillance system will add bite to food safety

By Shan Juan (China Daily)
Updated: 2011-03-05 08:14

Beijing -- China is to introduce a surveillance system to facilitate the quick detection of any food safety issues and better protect the people from problematic food, said a public health expert on Friday.

"Once in operation, the system will timely detect and locate potential health risks from foods and help reduce the impact on consumers," said Wang Yu, director of the Chinese Center for Disease Control and Prevention (CCDC) and a member of the National Committee of the Chinese People's Political Consultative Conference (CPPCC).

"A long-term lack of food-borne disease surveillance and a reporting system is to be blamed for the melamine tragedy," Wang told China Daily from the sidelines of the on-going CPPCC session.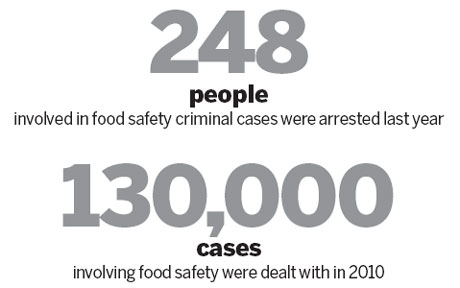 Related readings:


 Bright Food keen on Yoplait stake to grow business

 Food safety 'a top priority'


 China to take stronger measures to ensure food safety


 Food safety will occupy higher place on agenda


 China bans two food additives in flour
Melamine-tainted milk powder killed at least six infants and made more than 300,000 ill in 2008, and more than 20 million babies fed the contaminated formula have had to undergo ultrasonography to clear kidney stones.
The new system will connect medical institutions nationwide with food safety and public health experts at the CCDC, Wang said.
"That will help doctors reach a diagnosis as early as possible and alert consumers to emerging food safety risks," he added.
Zhang Yong, director of the executive office of the State Council Food Safety Commission said there are food safety risks all over the world.
"So what we can do is to try to detect risks in a timely manner and reduce their impacts via the surveillance network."
The Minister of Health Chen Zhu said on Thursday that given China's huge territory it needs time and public support to further improve the food safety situation.
"The surveillance system for food-borne diseases will be integrated into the country's major public health projects in five years," he said.
In 2010, China dealt with 130,000 cases involving food safety, 115 of which were criminal, and a total of 248 people involved were arrested, according to a statement issued by the National Food Safety Regulating Work Office in January.
China Daily