Dialogue with public stressed

By Wang Jingqiong and Li Xiaokun (China Daily)
Updated: 2011-03-04 07:16

Internet 'offers opportunity to better gauge public concerns'

BEIJING - Members of the nation's top political advisory body should play a bigger role in soliciting public opinion, especially through the Internet, a key adviser said on Thursday.

Jia Qinglin made the remarks in his report to the opening of the annual session of the Chinese People's Political Consultative Conference (CPPCC) National Committee, one of the two important meetings in the domestic political calendar.

The other major meeting is the annual session of the National People's Congress (NPC),

which starts on Saturday.

CPPCC members are drawn from different social fields and are, consequently, in contact with people of various backgrounds, Jia, the national committee chairman, said.

They should always explore new methods of communicating with the public, and understand what really is on people's minds, he said.

"The CPPCC should be an important channel for people to tell us what they need, and on the other hand for the Party and the government to know people's needs."

More than 2,000 CPPCC members will discuss major issues concerning the nation's development during the session, which lasts until March 13.

Founded in 1949, the CPPCC consists of elite members of society who are willing to serve as a think tank for the government as well as legislative and judicial organs.

Jia's suggestion was echoed by a number of members, some of whom have opened micro blogs to solicit ideas from Internet users.

"We, CPPCC members, have a responsibility to know about real social problems," Bao Yizhi, a CPPCC National Committee member, told China Daily.

"Netizens tend to talk more candidly, and the popularity of micro blogs proves that."

Statistics from popular micro blog platform sina.com.cn showed that 192 CPPCC National Committee members have opened micro blogs.

"There are so many social problems for us to address. I opened my micro blog on sina.com not long before the start of the two sessions, because I want to write into my proposals problems that people really need the government to solve," said Chen Jianguo, a member of the CPPCC National Committee.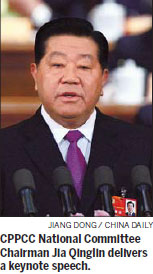 Jia said in his report that China must focus on making macro-economic controls more "scientific and foresighted".
The government must properly balance maintaining steady and rapid economic development with restructuring the economy and managing inflation, Jia said.
The advisory body will discuss the major topics of the day, ranging from income distribution to inflation, he said.
"We will look into the facts and tell the truth."
About 2,200 of the 5,430 proposals raised by its members last year concerned the economy and people's livelihood, many focusing on how to curb inflation and surging housing prices.
Wang Zhizhen, vice-chairman of the CPPCC National Committee, said at the opening ceremony that about 27 percent of the proposals they received last year had been addressed, and 58 percent are being handled.
Chi Fulin, head of the Hainan-based China Institute for Reform and Development, told China Daily on the sidelines of the session that the next five years are extremely important for economic restructuring.
"If China continues with an annual growth rate of 8 percent until 2020, we'll become a high-income country."
Yu Ran contributed to this story.