BEIJING / WASHINGTON - Popular Bluff, Missouri, native Catherine Beck never imagined her summer experiences in China would change her career course.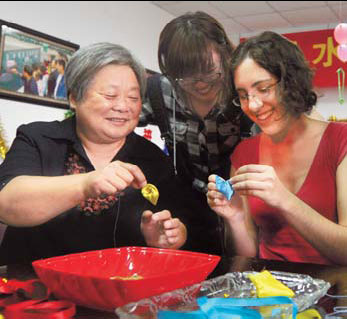 This file photo shows American students learning how to make steamed rice dumplings during the Dragon Boat Festival at a residential community in Anhui province. The traditional festival falls on the fifth day of the fifth month of the Chinese lunar calendar. [Photo/Xinhua]
The 25-year-old has worked as a project manager at the Beijing-based overseas study agency Insights Education International since 2007. Beck is among a growing number of Americans heading across the ocean to realize their Chinese dreams.
"I believe working in a field that is closely tied to Chinese education, business and culture will be beneficial when applying for jobs in the US," she told China Daily.
"I decided to look for work in China because it would give me an opportunity to improve my Chinese skills and, also, I had enjoyed my previous short-term summer experiences in China and was excited to come back."
Beck said she believed her work in China will provide experiences that will help her enroll in graduate school programs. The American studied Chinese for four years in a university and said she expected her language skills will be an asset to her future.
Beck majored in diplomacy and Asian studies at Seton Hall University and also studied Chinese for three months at East China Normal University. She received an internship with the US embassy in Beijing in 2006.
"The first city I spent a significant length of time in was Shanghai. I loved the futuristic feel and modernity of Shanghai," she recalled.
"But I love Beijing more now. Beijing has a unique personality and gives one that feeling that anything is possible."
First lady calls for exchanges
First Lady Michelle Obama encouraged more American students to study in China to improve ties between the two countries at a Howard University Forum on Wednesday.
She recalled her college years, which she said were about "getting in, getting through and getting out" rather than "finding opportunities" to study abroad. The first lady then told students to step out of their comfort zones and "develop the habit of cooperation" by immersing themselves in other cultures.
"Studying in countries like China isn't only about your prospects in the global marketplace," she said.
"It's not just about whether you can compete with your peers in other countries to make America stronger. It's about the friendships you make, the bonds of trust you establish and the image of America that you project to the rest of the world."
The first lady also announced at the forum the availability of more than $2.25 million in private sector pledges to support the increase of the number and diversity of US students studying in China.
Chen Naiqing, wife of China's ambassador to the US, Zhang Yesui, talked about educational exchanges at the forum.
"The number of American students has increased rapidly in recent years and reached almost 20,000 in China in 2009," Chen said. She attributed the increase to the great opportunities created by both sides.
The Ministry of Education (MOE) is working with the US to implement a four-year education program put forward by President Hu Jintao and his US counterpart Barack Obama, said Zhang Xiuqin, director-general of the ministry's department of international cooperation and exchanges.
US students in China are set to become one of the largest overseas groups, with Beijing and Washington working together to bring 100,000 students to China in the next four years, education officials have said.
By the end of 2009, 282 Confucius Institutes and 272 Confucius Classrooms had been established in 88 countries. They were educating about 260,000 students in 2009 - an increase of 130,000 over 2008 - about China's culture and language, according to the institutes' headquarters.