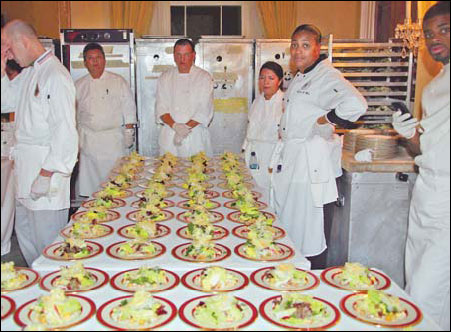 Cooks prepare food for the state dinner to welcome President Hu Jintao's state visit to the United States at the kitchen in the White House in Washington on Wednesday evening (Thursday, Beijing time). [Photo/China News Service]
Washington - US President Barack Obama welcomed a mix of Hollywood A-listers, big business types and prominent Chinese-Americans to the White House to throw a "quintessentially American" state dinner on Wednesday (Thursday, Beijing time) for President Hu Jintao, complete with apple pie, ice cream and jazz.
The US first lady was clad in an elegant red shoulder-baring gown that swished around her in soft folds and Obama sported a tuxedo as they welcomed Hu on the red carpet on the White House portico. An honor guard stood at attention behind them.
Celebrity star power arrived in the form of singer Barbra Streisand, her hubby-actor James Brolin and action film star Jackie Chan.
Big business turned out in force, too, including Microsoft's Steven Ballmer and JP Morgan Chase's Jamie Dimon.
Among the big names: fashion's Vera Wang, Vogue's Anna Wintour, artist Maya Lin, Olympic figure skater Michelle Kwan and Supreme Court Justice Stephen Breyer to add some gravitas. Former US presidents Bill Clinton and Jimmy Carter made the cut, too.
Wang wore a floor-length, sleeveless design of her own. Wintour opted for a white, patterned Chanel skirt suit.
The dinner's all-star jazz lineup included trumpeter Chris Botti, two-time Grammy Award-winning vocalist Dee Dee Bridgewater, jazz icon Herbie Hancock, rising pianist Lang Lang and four-time Grammy-winning vocalist Dianne Reeves.
Jazz pianist Peter Martin, part of the entertainment lineup, prepped for his appearance by springing for a tux.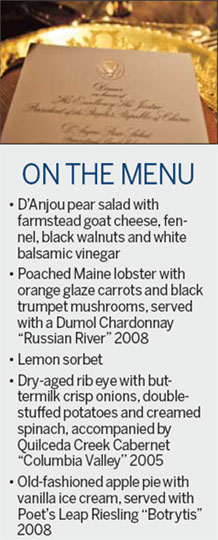 "I'm finally a grown-up, graduated from renting to owning," Martin tweeted, adding that he was "super-excited" about the White House gig.
The 225 guests, sitting at round tables, were spread out among three rooms: the State Dining Room, Blue Room and Red Room, then all shuttled to the East Room for the entertainment. Big video monitors were set up in the Blue and Red rooms for those assembled there to catch the dinner toasts.
The Obamas opted against bringing in a high-profile guest chef, instead putting White House Executive Chef Cristeta Comerford in charge of preparing an all-American dinner at the request of the Chinese delegation, the White House said.
Jackie Chan said he hoped to talk to Hu and Obama about environmental protection as well as the elimination of poverty.
"I believe that they are the world challenges they have to deal with regularly," Chan told China Daily. He said he is looking forward to more opportunities for cooperation in the film industry between the two countries.
Streisand, who also made the guest list for an afternoon luncheon at the US State Department, said she was appearing at her first state dinner since the Clinton years. The singer, who helped raise money for Obama during the presidential campaign, said she had "a lot of friends here".
There were some high-profile no-shows, including three of the top four leaders of Congress: John Boehner, speaker of the US House of Representatives, who declined Obama's past state dinner invitations; Senate Majority Leader Harry Reid and Senator Mitch McConnell of Kentucky, the Republican leader.
Agencies - China Daily