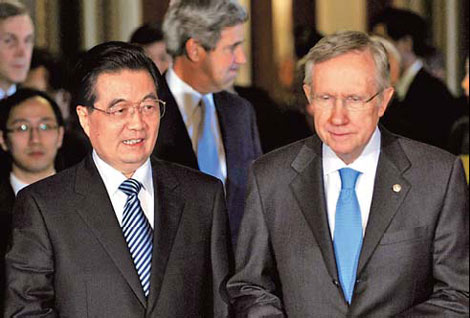 President Hu Jintao meets US Senate Majority Leader Harry Reid on Capitol Hill in Washington on Thursday. [Photo/Agencies]
WASHINGTON - President Hu Jintao and his US counterpart Barack Obama agreed to "share expanding common interests" while pledging closer cooperation in areas that included trade, energy, the environment and protection of intellectual property rights, as they held a summit in the White House on Wednesday.
"We both agreed to further push forward the positive, cooperative and comprehensive China-US relationship and commit to work together to build a partnership based on mutual respect and mutual benefit, so as to better benefit people in our own countries and the world over," Hu told a post-summit news briefing.
Obama said he "absolutely" believes "China's peaceful rise is good for the world, and it's good for America.
"We've shown that the US and China, when we cooperate, can receive substantial benefits," he said.
Hu said China will continue to provide a level playing field for US investors and urged the US to relax its restrictions on high-tech exports and offer a fair environment to Chinese enterprises investing in the US.
He also asked Washington to recognize China's full market economy status.
With increased partnership a priority for both countries, Hu touched on the subject when he addressed a welcoming luncheon hosted by the US-China Business Council and the National Committee on US-China Relations in Washington on Thursday before leaving for Chicago.
"The China-US relationship is not one in which one side's gain means the other side's loss," Hu said, addressing concerns expressed by some people in the US over the increasing economic and political competitiveness of China.
It is only normal, in any relationship, to have disagreement and friction, Hu said. But he added that a strategic and long-term perspective will ensure relations will not be affected or held back by any individual incident at any particular time.
A joint statement was issued after the summit, which was also used to unveil a series of deals, including China's purchase of 200 Boeing aircraft. US officials said the $45 billion deals would support an estimated 235,000 American jobs.
During the post-summit news briefing, the two leaders spoke glowingly about cooperation while trying to seek a more mature and respectful relationship. They also shared some unexpected laughs.
"We want to sell you all kinds of stuff," the US president said, drawing laughter from the packed room. "We want to sell you planes. We want to sell you cars. We want to sell you software."
While there were few signs the leaders had ended disagreements on issues such as the yuan - which Obama said is undervalued - and human rights, both sides, however, promised to seek further cooperation on the world's most pressing problems and embrace an era of "friendly competition".
After an event-packed day that also included a meeting with business executives, Hu was hosted at a gala state dinner, sprinkled with stars such as action hero Jackie Chan and singer Barbra Streisand, in White House rooms bathed in purple and red lights.
"While it is easy to focus on our differences, in cultures and perspective, let us never forget the values that our people share," Obama said in a toast to Hu, pointing to mutual hard work, sacrifice and love of family.
Experts hailed achievements made by Hu during his second day of the US visit.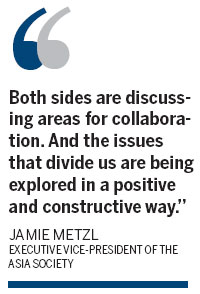 Yuan Peng, an expert on US studies with the China Institutes of Contemporary International Relations, said the joint statement was a guideline for relations in the next decade and beyond.
But he noted "it is important to implement the statement through pragmatic mechanisms and concrete actions".
Jamie Metzl, executive vice-president of the Asia Society, said it is a positive sign that the two presidents addressed differences in areas such as human rights and the yuan exchange rate.
"Both sides are discussing areas for collaboration. And the issues that divide us are being explored in a positive and constructive way."
Philip Levy, resident scholar at the American Enterprise Institute, said there has been a shift in the Obama administration's China policy.
"The House Committee on Ways and Means has made it clear that they are less interested in denunciations of currency practices than in practical attempts to solve trade problems," he told China Daily.
"It is not that the US is any less interested in seeing a currency appreciation ... rather, it seems to be a constructive attempt to find those issues where cooperative action is possible."
Charles Freeman, at the Center for Strategic and International Studies, said the Obama administration's tactic to reduce strategic mistrust has led to greater emphasis on cooperation in global affairs.
"It now recognizes that China is a considerable ... mover in that architecture. By elevating its assessment of China's role in global affairs, however, the US expects China to play an active role and reduce threats to the (US-led) international architecture," said Freeman.
Yukon Huang, senior associate in the Carnegie Asia Program at the Carnegie Endowment for International Peace, said the two countries are trying to find common ground for more productive dialogue.
"The economic woes of the US only exacerbate the tension (over the yuan exchange rate). But China's economy is growing at an average 10 percent per year. It has more flexibility to find a win-win solution."
This year will see more high-level exchanges between the two countries.
Both presidents will meet again at the 2011 Asia-Pacific Economic Cooperation meeting in Hawaii.
US Vice-President Joe Biden will visit China later this year to meet Vice-President Xi Jinping, who will pay a return visit.
Zhang Yuwei and Ariel Tung in New York, Li Xiaokun in Beijing, AP, and Reuters contributed to this story.