NEW YORK - Chicago Mayor Richard M. Daley has pledged to make Chicago the friendliest American city for Chinese people.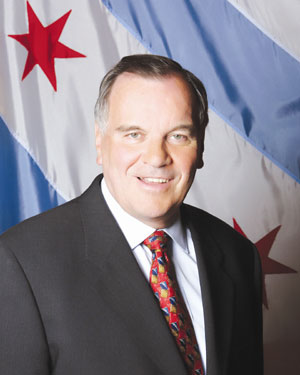 Richard M. Daley is the mayor of Chicago.
"This means (we'll have) all welcoming arms to not only tourists but businesses," Daley told China Daily. "They should feel comfortable when coming here to Chicago.
"We want a better relationship with China, its government and its people."
Daley described President Hu Jintao's inclusion of Chicago on his state visit to the United States as a "big deal".
"Here in Chicago we have a better people-to-people, government-to-government relationship with China," Daley said.
"Chicago is also the economic gateway to America."
Daley will retire on May 16 after running the third largest US city for 22 years, the longest serving Chicago mayor in history.
About 300 Chicago area companies, such as Motorola, Wrigley and Boeing, are operating in China, while 7,000 businesses owned by ethnic Chinese operate in Chicago.
Chicago Customs recorded $28.6 billion in imports from China and $2.8 billion in exports to China in 2009.
Besides business links, Daley is especially proud of Chicago's cultural ties with China and Chinese cities.
The Chicago public school system teaches Mandarin to 12,000 students, making the city one of a growing list of US cities teaching Mandarin in public schools.
"It is really important for the young people and minorities to learn the language, customs and traditions," Daley said.
"They are the future generation and this century belongs to those who want to grasp the future and work together."
Daley believes the foundations for Chicago's good relationship with China and Chinese cities are so strong that it will continue after his retirement.
"You have to remember that the foundations are built by no one person and no one can take it away," he said.
Daley, who was in China in September 2010, said he enjoyed visiting the sister city of Shanghai and opening Chicago Day at the Shanghai Expo. It was his fourth trip to China.
Besides Shanghai, Chicago is also a sister city with Shenyang in Northeast China.
Daley and his father Richard J. Daley, who died of a heart attack in office in 1976, ran Chicago for 43 of the past 55 years.
Daley's brother, William Daley, a former secretary of commerce, was appointed on Jan 6 by President Barack Obama as White House chief of staff, after former chief of staff Rahm Emanuel decided to contest the Chicago mayoral election next month.
Obama, who is supporting Emanuel, began his political career in Chicago.