Mid-Autumn Report: It's all about the Cake
Updated:2011-09-08 18:55
By Yan Weijue and Quan Li (chinadaily.com.cn)
Mid-Autumn Report: It's all about the Cake


Editor's Note: As one of China's most important holidays, Mid-Autumn Festival cannot be celebrated without mooncakes. However, in recent years the reputation of mooncake has been tarnished. First was the fancy packaging that pushed mooncake prices to an absurdly high level, then came the quality scandal that horrified consumers. And this year, it's the imposed tax on the round cakes given by employers that annoys many people in the country.
Part One: Tax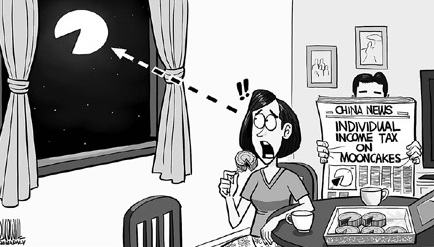 Legal Evening News quoted Beijing tax authorities in one of its reports on Aug 26, saying that mooncakes given as gifts by companies to their staff are taxable as part of employees' in-kind income in accordance with the country's personal income tax law. The topic of whether mooncake benefits should be taxed has provoked heated discussions in China's cyber world.
It is not the first time netizens bristled at the "mooncake tax." Proposals for making the tax legitimate in past years all went quiet after receiving blasts from netizens. What makes this year's rally fiercer is the implication of the new personal income law implemented on Sept 1 that raised the country's monthly tax exemption threshold from 2,000 yuan to 3,500 yuan, which meant that some of those 60 million people who have been freed from personal income tax would have to pay again if their monthly incomes exceed 3,500 yuan with the mooncakes added. [more]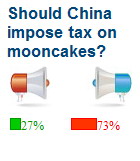 In tax bodies' defense, the "mooncake tax," a term that they denied existed in tax law, has in fact been levied for 17 years since the regulation was enacted in 1994. It stipulates that one's income, including cash, in-kind benefits and securities, are taxable, and their market value should be counted as one's taxable income.
The mooncake is included in the in-kind benefits according to the regulation, while most employees have been unaware of the tax, taking it for granted that mooncakes are supposed to be gifts from companies.
On the other hand, many companies, especially small and medium-sized ones, do not report in-kind benefits to the tax bureau, which does not enforce the law, either.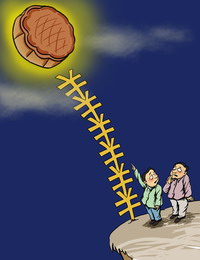 Putting aside the fact that mooncakes belong to in-kind benefits, of which taxation is legalized by law, the pro coalition came up with a legitimate excuse, seeing it an opportunity to unify standards for all non-cash benefits that should made taxable in all enterprises and, more important, in government institutions notorious for misuse of public funds, as a way of cracking down on corruption.
They insist that what the public should question is not the "mooncake tax" itself, but rather the exercise of taxing power by the government from a fair standpoint.
The cons camp believe that subjecting the mooncake, the traditional Chinese food symbolizing happiness and reunion, to taxation sabotages people's feelings about it. In addition, some employees will be "forced" to pay tax for mooncakes that they may not like, which is against their will.
What's more, they think the mooncakes are subject to consumption tax when they are bought, so it is being taxed again when given to employees as a benefit. [Have your say]
Part Two:  Mooncake 
Editor's Note: Mid-Autumn holidays are never short of tears of joy and the occasional farcical laughter. Here we bring you a round-up of the most intriguing news and photos in a bid to start the festivities off with some cheer.  
Bomb squad


Police in the southern Taiwan city of Kaohsiung mobilized the bomb squad after a suspicious package was found in a subway station toilet, only to find it contained mooncakes. [more]
 

Price hike
China's pork prices rose 0.4 percent during the week ending Sept 2 as upcoming holidays spurred an increase in demand. Liquor maker Wuliangye also raised prices by 20-30 percent from Sept 10
The gift of a smile 

A woman smiles when she holds a printed photo of herself at a seniors' home in Suining county, East China's Jiangsu province, Sept 5, 2011. More than 10 shutterbugs from a local photographers' association came to Weiji Seniors' Home in Suining, Jiangxi province and took pictures as a Mid-Autumn Festival gifts for residents. [more]
Homemade


A woman shows two mooncakes she made on her own at a shop in Shenyang, Northeast China's Liaoning province, September 4, 2011. People can make their own moon cakes, which Chinese people eat as a tradition during Mid-Autumn Festival, in this shop. [

more

] 

 
Moonlight love searched on Earth

Chang'e is a female character in Chinese fairytale that lived on the moon with her pet jade rabbit. But two real live versions of the fantasy have been found looking for love on planet China. One (Left in the combined picture) waited on a street corner in Shanghai selling pancakes. The other at a railway station in Shenzhen trying to hire a boyfriend for the Mid-Autumn festival.
Angry Birds over the moon for festival

Rovio decided to release some signature shaped Angry Birds Mooncakes alongside a series of new products. The Angry Birds Seasons' next update will be "Moon Festival," again in celebration of the same holiday taking place in China this fall.
   

 

Gold mooncakes

An employee poses for a photograph with two gold figurines in the shape of moon cakes ahead of the Mid-Autumn Festival at a gold shop in Shenyang, Liaoning province August 25, 2011. Gold buyers rushed into Asia's physical market on Wednesday, after prices retreated from the record high hit in the previous session, as investors maintained interest in bullion due to a shaky global growth outlook.

 

Appetizing strategy

A bakery in Nanjing, East China's Jiangsu province, sells chess pieces made from mooncakes, Sept 2, 2011. In this version of the popular board game Xiang Qi (Chinese chess), which represents the battle between two armies - red and black - players can eat the mooncake pieces when they are captured and removed from the board.[more]

Reunion in prison

An inmate holds his daughters in his arms during a family reunion meeting at a prison in Zhengzhou, Sept 8, 2011. The prison organized family reunion meetings for the inmates before the Mid-Autumn Festival. [more]