WUHAN - Twenty three people were killed in a rear-end collision on Monday morning on the Xiantao section of the Suizhou-Yueyang Highway in Central China's Hubei province, local police have confirmed.
The accident happened at about 3:50 am and involved a long-distance coach that was hit from behind at high speed by a truck before both vehicles caught fire.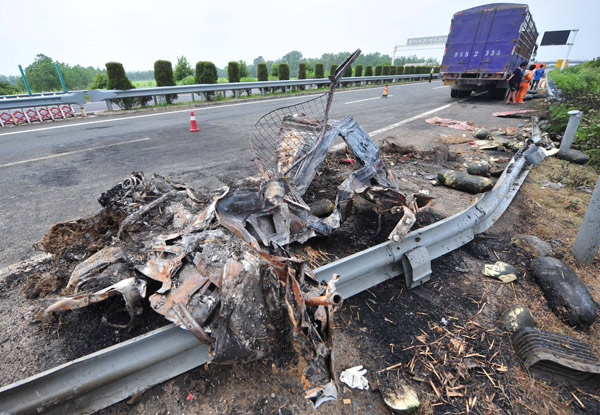 The remains of a coach that was rear-ended by a truck before catching fire lies at the side of the Xiantao section of the Suizhou-Yueyang Highway in Hubei province on Monday. The accident claimed the lives of 23 people and injured 29 early Monday. [Photo/Xinhua]
Another 29 people were injured, including three who were in serious condition. The most seriously injured were transferred to the No 3 Hospital in Wuhan, the capital of Hubei province, according to a local official surnamed Ye.
Those with less serious injuries were treated at various local hospitals.
Initial investigations suggest the causes of the accident involved illegal road-side parking and fatigue.
A spokesman from the traffic police headquarters of Hubei province said the coach was bound for Tianmen city in Hubei and had started out in southern Guangdong province. The truck that hit it from behind was carrying watermelons. Investigators believe the bus was parked in the emergency lane while some passengers were disembarking.
The driver of the truck was believed to have been fatigued and failed to brake in time.
Both vehicles broke through guardrails along the side of the expressway and caught fire.
"The truck drivers died instantly and between three and five passengers were burned to death on the spot," a witness surnamed Zuo told China Daily on Monday afternoon. "It was too tragic to look at."
The bus, which was operated by the Wuhan Hailong Tourism Bus Company, was carrying 52 passengers, including five children.
Police are investigating the cause of the accident.
It is not known whether any of the children were among those killed in the accident.