BEIJING - Pollution at the point where food is produced is a major cause of food safety problems in China, according to a report released on Wednesday after a nationwide food safety check by China's top legislature.
"The abuse and illegal use of farm chemicals, veterinary drugs, hormones and feed additives by some food businesses has caused contamination in the raw materials of food and the weak oversight of the source of our food is also to blame," said Lu Yongxiang, vice-chairman of the Standing Committee of the National People's Congress, the top legislature.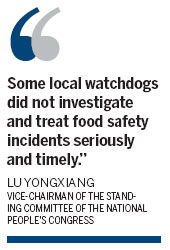 The report said many food safety incidents that cropped up across the country were caused by problems in the initial stages of its manufacture, including primary processing and production.
The 2008 melamine-tainted baby formula scandal triggered the government to declare food safety a national priority. Nationwide outrage erupted after melamine-tainted dairy products sickened 300,000 infants and killed six, who died of kidney stones and other kidney damage.
The chemical melamine had been added to watered-down milk to make it seem to have a higher protein content.
Clenbuterol, an additive that makes pigs leaner but may cause health problems in humans, stirred another widespread fear of pork safety in the country recently. China's largest meat processor, the Shuanghui Group, apologized in April for selling pork products that contained the additive.
In April, steamed buns containing illegal coloring were found in Shanghai and Wenzhou, Zhejiang province. Authorities closed a Shanghai-based bun producer and an unlicensed outlet that made steamed buns after they were allegedly found to have used prohibited chemicals.
The report blamed some local government agencies for their feeble oversight and their lack of crackdowns on violators.
"With the misconceived idea of maintaining social stability and a one-sided pursuit of economic growth, some local watchdogs did not investigate and treat food safety incidents seriously and timely, which allowed food enterprises to take advantage of the loopholes in supervision," Lu said.
Food safety experts said the intense competition in the market was another reason why problems arose as farmers broke rules during planting and cultivation in order to get an edge on their rivals.
"Large enterprises can use many strategies, such as a price war, to squeeze out their smaller competitors and then raise the market price and most small businesses cannot survive such competition, so they are to some extent forced to cut corners," said Sang Liwei, a food-safety lawyer and the China representative of the NGO Global Food Safety Forum.
Sang suggested that the National Development and Reform Commission, which manages the macro economy, takes action to ensure prices are not lowered to dangerous levels and raises subsidies offered to small businesses.
Sang also advised that a food safety liability insurance be introduced to raise the quality of food and protect producers that play by the rules.
"The insurance company could allocate some of the money it collects to overseeing insured businesses and it could pay compensation to consumers if there are problems," Sang said.