JIMSAR, Xinjiang - Wang Zhenshan looks like a statue set between the clear sky and the Gobi Desert in the Xinjiang Uygur autonomous region.
In front of the tanned 41-year-old man is an enormous horse shed, home to a clan of Przewalski's horses, a rare and endangered wild horse named after a Russian colonel who believed he had discovered this breed of wild horse in 1878. Its population is even slightly smaller than that of giant pandas.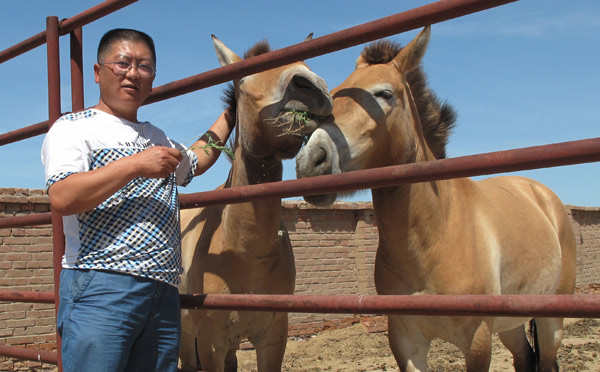 Wang Zhenshan, who has worked at the Wild Horse Research and Reproduction Center of Jimsar in Changji, the Xinjiang Uygur autonomous region, for nearly 20 years, stands near two Przewalski horses on June 20. [Shao Wei / China Daily]
Wang is a specialist in the horses' reproduction in the Wild Horse Research and Reproduction Center of Jimsar in the Changji Hui autonomous prefecture.
Standing about 15 meters from the clan of wild horses consisting of a stallion, six mares and two foals, Wang is recording their daily behavior including grazing, drinking and dozing.
"These Przewalski horses are nimble with quick reflexes. They are intuitively hostile toward intruders and have little tolerance for human proximity. So I have to stand far away and try to be invisible to them," said Wang. "They are smart and feral animals."
Wang has been in the center, founded in 1986, for nearly 20 years.
"The job is not overwhelmingly heavy. But the most difficult part is to combat loneliness," he said.
"I was told that my job in the center would involve a pen and paper and could earn 79 yuan ($12.20) a month, so I happily took it," Wang recalled.
"But upon my arrival, I noticed it's totally different. There was no electricity, no telephone, no television and no shops in the vicinity."
All he could find were huge horse sheds in the vast Gobi desert and a row of small earthen houses for six other colleagues, all men.
"I always feel lucky that I was able to marry my wife as she's my classmate and she had known me before I took this job. Otherwise, I would still be a bachelor," Wang joked.
Now there are 93 Przewalski horses in the center, fed four times a day with the last feeding at midnight. A horse needs about 12 kg of grass a day, with watermelons and salt as supplements in the summer, and carrots and corn in the winter.
Besides those in the center, there are another 85 Przewalski horses released to the wild. They stay freely in a natural reserve about 180 km from the center.
"The center sent the horses back to the wild successfully in 2001 for the first time. We have since constantly monitored them to prevent them from getting lost, or mating with domestic horses, which interferes with their strain," Wang said.
But finding the wild horses in the vast Gobi desert was not easy.
"A jeep and a telescope, no GPS, no cell phone," Wang said. "We just wandered in the expansive and deserted Gobi, with no destination."
The trick? Tracing hoof prints and observing dung.
"Different animals have different footprints," he said. "The hoof print of Przewalski horses is heart-shaped, while that of domesticated ones is irregular and bigger as they wear shoes. That of wild donkeys is half-oval."
After finding their route, Wang observes the horses' dung to estimate the distance between him and the horses.
"In this summertime when the temperature reaches around 40 C, if the dung is only dry on the surface, the horses must have taken the route in the early morning on the same day. If the dung is totally dry and light, the horses must have passed by a week ago," Wang said.
The center has had great success breeding the horses. It introduced 18 Przewalski horses from the United Kingdom and Germany in the first couple of years. Now the horses bred in the center number more than 300.
"The survival rate is 98 percent in China, while abroad it is around 25 percent," Wang told China Daily proudly.
"This is because the Przewalski horses are back in their hometown," he explained.
To guarantee the high survival rate and avoid inbreeding, Wang and his colleagues have built an ID and DNA archive for each horse.
"Inbreeding will cause diseases and degeneration of these wild horses, so the center needs to work as a matrimonial agency and choose mares for each stallion according to their genealogy," Wang said.
Compared with the hustle and bustle in cities, Wang said he prefers to stay in the Gobi desert.
"I enjoy the quiet life with horses in the Gobi desert. It makes me calm," Wang said, adding that the happiest moment is seeing Przewalski horses going back into the wild.