URUMQI - Zhuang Shihua enjoys peeling the skin of a grape with a long and delicate pair of forceps.
The 54-year-old military surgeon has no interest in eating the juicy and tender grape flesh. The only thing he cares about is using this unique method to improve his skills and reduce medical errors.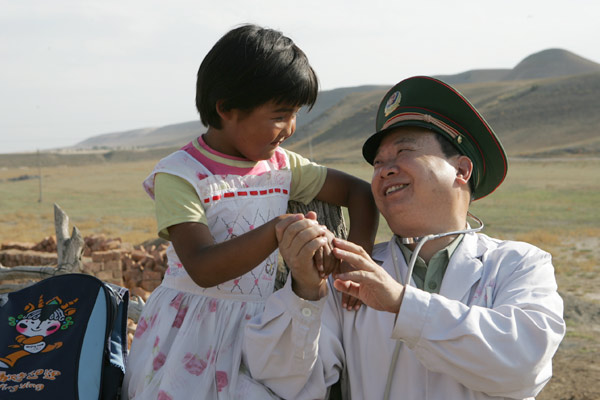 Zhuang Shihua, president of the hospital affiliated to the Xinjiang Armed Police Corps, holds the hand of a child who returned to school with his help in this file photo. [Photo/Xinhua]
Zhuang, president of the hospital affiliated to the Xinjiang Armed Police Corps in the far west city of Urumqi, has been in the armed police for 38 years.
Working in a region that has a high rate of liver and gallbladder disease, Zhuang has long been concerned about the risk of performing gallbladder surgery.
"To succeed in a gallbladder surgery is very difficult as the gallbladder wall is thinner than paper, and any misstep in the operation could cause massive hemorrhaging, putting the patient's life in jeopardy," Zhuang explained.
In the early 1990s, the doctor initiated the practice of peeling grapes with medical gadgets because he found the peeling process resembled the procedure of a gallbladder surgery.
Every sweltering summer, when the famous Xinjiang fruit becomes fully ripe, Zhuang turns his room into a testing ground and spends hours gripping and peeling grapes with surgical clamps in front of a mirror.
"At the beginning, even though I was often soaked with sweat and experienced severe soreness in my arms, I damaged the grapes when peeling them, which suggested a possible danger in a real operation," Zhuang said.
After months of practice, Zhuang could quickly peel grapes without mutilating them, and with his excellent skills he can peel the gallbladder away from the liver in 47 seconds.
But back in 1992, when Zhuang started to conduct such surgeries, it took four and a half hours to complete one.
"But my family ate peeled grapes every day for nearly half a year. That's almost unbearable," Zhuang continued, laughing.
Zhuang's medical expertise brought him many opportunities to make a fortune.
One time, a businessman who operated a private hospital asked Zhuang to head his hospital and offered him an annual salary of 1 million yuan ($154,000).
"He didn't understand why I stayed in Xinjiang in the first place. All I want is to serve patients here and I won't use my ability to earn personal profits," said Zhuang, who refused the businessman and has declined many other lucrative offers.
Born into a poor family in the remote mountain village of Jianyang, Sichuan province, Zhuang completed his middle school education with the help of his hometown folks and then joined the army.
"I always have a grateful heart toward people and the army, as they offered me great help," he said.
But Zhuang's endless enthusiasm comes from "a shameful experience".
In the late 1970s, Zhuang served as an assistant military medic in the Xinjiang Uygur autonomous region. During a snowstorm one night when the doctor was absent, a group of Kazakh herders brought a patient who was vomiting and yelling in pain.
"At that time I was terrified, as I knew nothing about medical treatment except acupuncture. I had to let them go to the nearby hospital about 40 kilometers away," Zhuang recalled.
The group of herders spoke no word to Zhuang and gave him "a disappointed glance".
"I can't forget their disappointment, which has become the endless driving force for my study and work on medical treatment," Zhuang recalled.
Now the hospital where Zhuang works is decorated with hundreds of thank-you pennants from former patients - some from Xinjiang, some from inland provinces and even some from Brazil, Russia and the United States.
Over the past decades, the devoted physician has also led a medical squad sending supplies and assistance to people by walking on snow-capped plateaus and mountains.
"The harsh weather and the terrible road condition always slowed us down," Zhuang said, recalling a visit he paid to a Uygur soldier on patrol alone in an isolated ranch.
"It took us four hours to brave the sleet cutting like a knife and trek through five kilometers of ankle-deep snow."
Still, Zhuang doesn't think he has succeeded in his endeavor to be a good doctor.
"People commonly regard a doctor's main job as curing sickness and saving the patient. But I think the more important task for a doctor is to prevent disease. It would be the biggest pride for any doctor if people suffer no disease and have happy lives," he said.
Mao Weihua contributed to this story.