DEHONG, Yunnan - Drug traffickers are taking advantage of more foreigners, pregnant women, minors or even people with infectious diseases to help with their drug trafficking, according to a senior local frontier defense police officer.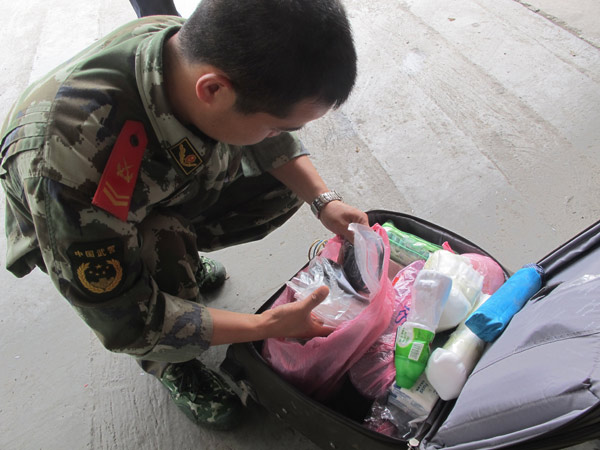 A soldier checks a suitcase for drugs at Mukang frontier inspection station, Yunnan province, on Friday. [Zhang Yan / China Daily]
"People with these special groups have been manipulated to become a main force for trafficking drugs," said Fan Yuquan, a senior officer with Yunnan Provincial Frontier Defense Police Corps, in an interview with China Daily.
Statistics suggest that frontier defense police in the southwestern province of Yunnan uncovered 262 drug trafficking cases involving 417 suspects from these groups in 2010, seizing 284.31 kilograms of drugs.
Among them were 276 foreigners, who were involved in 157 cases, accounting for 66 percent of the suspects.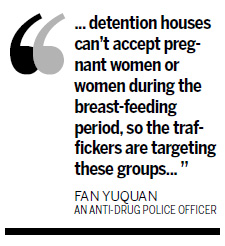 The number of minors or those with infectious diseases stood at 60, a year-on-year increase of 18.3 percent. And 81 suspects were pregnant women, according to the statistics.
"At present, according to the law, detention houses can't accept pregnant women or women during the breast-feeding period, so the traffickers are targeting these groups to take advantage of the legal loopholes," Fan said.
He also said that there has been a tendency for more violent drug trafficking over the past few years.
"Drug traffickers have even become armed to openly fight us", he said. "Some of them carry knives, chain saws or even guns as they pass through the checkpoints, and once the drugs are detected, they will risk their lives to attack us."
Yunnan has become a key drug trafficking artery in China as it borders Thailand, Laos and Myanmar, where reportedly 90 percent of the drugs trafficked to the Chinese mainland originate.
Since 2010, Yunnan frontier defense police have been involved in 2,076 drug-related cases and detained 2,458 suspects, seizing 2.5 tons of drugs and 60.32 tons of raw drug materials, Fan said.
But the drugs seized by the frontier defense police was still less than 30 percent of the total trafficked, he added.
"Tempted by the huge potential profits, some suspects will try any means to traffic drugs," the senior officer said.
"Our resources are limited compared to the massive traffic and passenger flow through each border checkpoint," he said.
Fan said that with the opening of the new highway linking Kunming, capital city of Yunnan, with the Thai capital Bangkok, drug trafficking in southern Yunnan has increased.
In 2010, frontier defense police in Xishuangbanna and Puer in southern Yunnan seized 769.335 kg of drugs, which accounted for 43.9 percent of the total amount of drugs seized by frontier defense police in the province. The figure represented a year-on-year rise of 15 percent, according to Fan.
Western Yunnan, including Dehong, Baoshan and Lincang, where frontier defense police seized 934.99 kg of drugs in 2010, is still the main channel for drug trafficking in the province.
Top anti-drug trafficking station
Mukang frontier inspection station, located in the Dehong Dai and Jingpo autonomous prefecture of Yunnan province has been honored as China's No 1 anti-drug trafficking station for the quantity of drugs it has confiscated.
Mukang station is the only road connecting to the "Golden Triangle" area of Thailand, Laos, and Myanmar.
The amount of drugs seized by Mukang station averages more than 1 ton every year, accounting for about 10 percent of the total drugs seized annually nationwide.
The drugs are either concealed on the bodies of traffickers or concealed in cargo.
Zhang Jinlong, a border police officer from the station, said he and his colleagues inspect an average of 5,000 vehicles and up to 10,000 to 15,000 people every day.
That means each border police officer checks at least 100 to 150 vehicles and examines 300 to 400 people daily.
Fan Yuquan, a senior officer from Yunnan Provincial Frontier Defense Police Corps, said some drug traffickers have developed special capsules made of rubber, which cannot be corroded by stomach acid, to swallow drugs rather than the commonly used condoms.
"The capsules have even been improved to have the same density as that of human body to help pass x-ray scanning," he said.
Farm tools, the interior of computer monitors and computer cases have also been modified for drug trafficking.