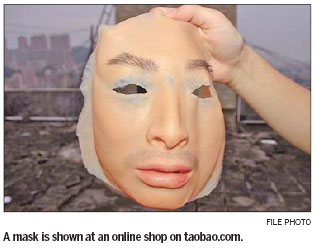 SHANGHAI - Incredibly realistic masks are giving online buyers a chance to completely change the way they look - for better or worse.
While the skill of disguising one's face has always been a favorite trick in traditional Chinese kungfu novels and Hollywood spy films, these new "better-than-life" masks have become an affordable craze.
Available on taobao.com, the ultra-thin masks, 0.1 to 1 mm thick, are made from medical silica gel and look like a layer of new skin with only holes for eyes and nostrils. There are basically two kinds: sticky ones that will produce a better effect with the help of special glue, and those with black strings.
They have nearly the same texture as real skin and can only be noticed within a distance of 1 meter.
Prices range from 500 yuan ($77) to 2,000 yuan, depending on the vividness of the mask. A beard or moustache will set you back another 50 yuan. The search engine of Taobao showed hundreds of such masks on sale.
"We are getting an increasing number of inquiries about these masks. And the business is thriving," said the owner of Beijing Face Disguise Studio, who would only give his surname as Xu.
Xu told China Daily that he started his online mask sales business in 2010, when he thought his years of making special masks for filmmaking companies could be put to good use.
Xu's studio, which has four employees, also sells prosthetic ears and fingers.
While the purposes of buying such masks remain a mystery, Xu said most of his customers are simply buying them for fun, like scaring a girlfriend, while others are people who are disfigured.
"It's especially helpful for those people with biological defects. They have also recommended their affected friends to me," said Xu.
But Xu has put up an eye-catching notice on the front page of his store, taking no responsibility for any crime that takes advantage of his masks.
"It's like selling knives. You can't forbid people selling them just because they could hurt or kill others," argued Xu.
But Wu Yanyan, an office lady in Shanghai and a self-proclaimed online shopaholic who shops almost every other day online, doesn't believe that buyers are just seeking fun.
"I don't think people would pay 600 yuan just for fun. With such a sum of money, far more exciting fun can be bought. There must be some ulterior motive behind it."
"Besides, it's creepy if we are surrounded with a crowd of masked people," she added.
Most mask buyers chose to keep silent about their motives while leaving comments on the sales page for the mask. But most had a very good review of the quality of the masks, calling them "a good value for money" and "more true to life than expected".
Zhang Tao, a former attorney of Shanghai Zhongtianxin Law Firm, said there are no definite rules or laws prohibiting the sale of disguises.
"Of course it would be illegal if someone wore a mask of this kind to rob a bank or steal into another country. But it's the behavior per se that violates the law, while the mask is simply a tool, and it's only when the mask is used during a crime that it can be called a criminal tool," said Zhang.
"Basically, the sales of such special masks are as safe as other ordinary ones, like those featuring cartoon figures worn by kids," he added.
But the special masks raise questions like whether the manufacturers are qualified, and whether the use of such masks should be restricted.
"After all, masks of this kind are not a daily necessity. Their negative effects can't be ignored. For example, will it increase the time and cost for police to find and catch suspects?" asked Zhang, who suggested that the use of special masks be restricted for certain purposes.