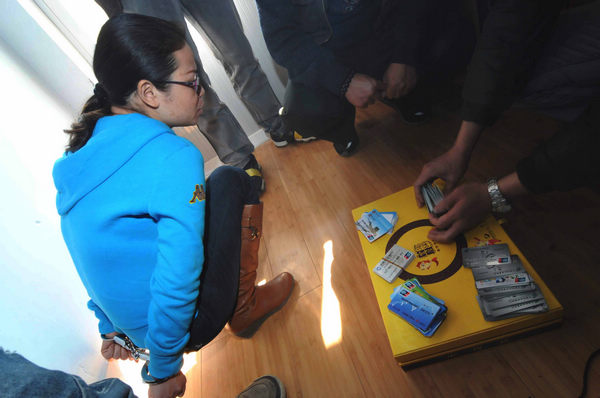 Police arrest a telecom scam suspect and seize a large number of credit cards in Nanning, the Guangxi Zhuang autonomous region, on Dec 27, 2010. [He Yun / for China Daily]
Flaws in telecom operations and lax banking security make it harder for police to bust scams, Zhang Yan and Yang Wanli report in Beijing.
Have you ever received a call or a text message telling you that your credit card was stolen and your personal information is needed for verification? Or that you are a lottery winner and have to wire some tax money to a bank account?
If yes, you may have been the target of a telephone scam, a crime that is becoming increasingly rampant.
Police on the Chinese mainland and in Taiwan recently busted the largest-ever telephone scam in the region with help from police in four Southeast Asian countries, the Ministry of Public Security announced on June 11.
The 598 people who were arrested are suspected of cheating their victims out of 70 million yuan ($10.8 million).
In exclusive interviews with China Daily, senior police officers described how the massive scam worked.
According to Liao Jinrong, vice-director of the ministry's criminal investigation department, difficulty in obtaining evidence and flaws in telecom and banking operations are the greatest obstacles Chinese police face in shutting down cross-border telecom fraud.
"Most of the computer servers are located outside the Chinese mainland such as in Taiwan, Hong Kong and the United States, which adds practical difficulty for police to investigate and grasp solid evidence," Liao said on Monday.
Moreover, the telecom companies allowed the crooks to make thousands of overseas phone calls to the mainland using altered numbers. The companies can detect when the "from" phone number is phony, and Liao said they should have done something about it.
There are also flaws in the banking system, he said. "Usually the suspects used IDs that they borrowed, stole or picked up off the street to apply for bank cards, and the banks didn't carefully examine them at all."
"In every large-scale telecom fraud case, hundreds of bank cards are seized, covering nearly all Chinese regions and all kinds of commercial banks."
Well-organized crooks
The conmen here are organized professionals. According to Chen Shaokun, director of the action team that was formed to combat this case, a telecom scam is usually committed by an organized group and in a professional manner, with different divisions of the group assuming different tasks to swindle the victims.
In this case, authorities said, the operation included 186 people from the Chinese mainland, 410 from Taiwan, one from Cambodia and one from Vietnam. Police across the Straits, working with their counterparts in Cambodia, Indonesia, Malaysia and Thailand, destroyed 106 calling centers that were bases for the operation.
The investigation started in December, when a number of telecom-based swindles were reported on the mainland and in Taiwan. Police across the Straits began to work together.
They found out that the manipulators were based in Taiwan and others were divided into several major groups, including phone calls, network maintenance, and specialists in withdrawing, transferring and laundering money, Chen said on Monday.
The bosses bought or rented computer servers and programs to set up the host computer and circuits in Taiwan, which made it possible to place calls using altered numbers, to dial groups of numbers on the mainland and to answer return calls, he said.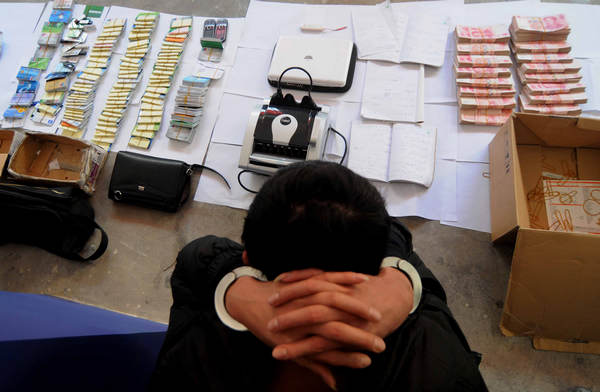 A suspect is held and displayed with evidence of a telecom scam last year in Nanning, capital of South China's Guangxi Zhuang autonomous region. Police knocked out nine operations sites. [He Yun / for China Daily]
Calling bases were scattered in Taiwan, Cambodia, Indonesia, South China's Guangdong province and East China's Fujian province, and each was staffed with 10 to 40 people.
"They mainly hired unemployed young men from the Chinese mainland and Taiwan who received formal training and formed a complete fraud works," he said.
From February to June, they made 850,000 calls to mainland phone customers, according to figures provided by the ministry.
"Many of them pretended to be the police or court officers calling to tell the victims they had been involved with a money laundering case or other economic cases, and their private information had been disclosed. Then they were told their accounts were unsafe, and they had to transfer their money to a new, designated account," Chen said.
Other tricks included informing victims they had won a prize or owed money for phone bills, and scams involving credit cards, online shopping, long-lost friends, even kidnapping and extortion.
After the victims transferred their money to the accounts specified by the crooks, Chen said, the laundering groups soon split up and transferred the money to hundreds of bank cards, loading each with as much as 20,000 yuan. Then, they withdrew the money from ATMs at various places overseas to escape notice by police.