YICHANG - The five-tier ship lock of the Yangtze River's Three Gorges Project has handled 400 million tonnes of freight after eight years of operation, China Three Gorges Corporation said in a statement Saturday.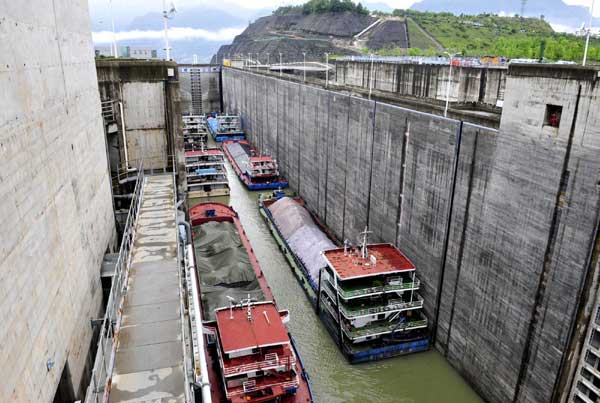 Photo taken on June 18, 2011 shows cargo vessels pass through a ship lock of the Three Gorges in Yichang, central China's Hubei province. [Photo/Xinhua] 
The freight volume is 2.3 times as much as the total throughput of the Gezhouba Dam, which was the first water control project on the Yangtze River, 22 years before the Three Gorges Dam began storing water, it said.
Since it opened to traffic on June 18, 2003, the five-tier ship lock has seen 474,000 vessels and 9.43 million passengers passing.
Last year alone, about 88 million tonnes of freight passed the ship lock, nearly five times the maximum annual volume reported before 2003.
The document said the Three Gorges Project has improved navigation on the Yangtze's upper reaches, by increasing water depth from 2.9 meters to 3.5 and 4.5 meters between Chongqing, the largest industrial city on the upper reaches of the Yangtze, and Yichang, where the hydropower project is located.
This allows large vessels from 3,000 tonnages to 5,000 tonnages to navigate in the water, compared with the previous 1,000 tonnage.
As a result, the transportation cost on the Yangtze has been reduced from 7.6 kilograms of fuel for every 1,000 tonnes to 2.9 kilograms.
The Three Gorges Dam project was launched in 1993 with a budget of 180 billion yuan (about $27.69 billion).
Located on the middle reaches of the Yangtze River in Hubei province, the total project consists of a 185-meter-high dam, which was completed in early 2006, a five-tier ship lock, a reservoir and 32 hydropower generators.
The project generates electricity, controls floods by storing excess water and helps to regulate the river's shipping capacity.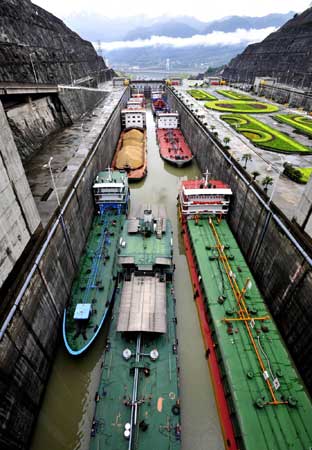 Photo taken on June 18, 2011 shows cargo vessels pass through a ship lock of the Three Gorges in Yichang, central China's Hubei province. [Photo/Xinhua]