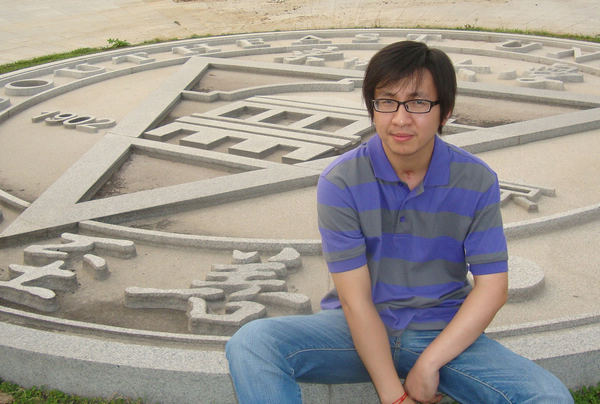 Wang Yikai, 24, at the campus of Southeast University in Nanjing, where he graduated as an accounting major on Thursday - a miracle achievement for him after losing most of the function on the right side of his brain in a car accident six years ago. [Provided to China Daily] 
SHANGHAI - It was drizzling when a graduation ceremony started on Thursday in Southeast University in Nanjing, capital of Jiangsu province.
In the audience was Wang Yikai, 24, who had to get up at 5:30 am to make the ceremony, driving with his mom from their home in Danyang, about 90 kilometers away.
But the real road to graduation was much longer than that.
Once a top student, in 2005 Wang had just been accepted into the architecture program when a car accident left him in coma for 10 months. The right side of his brain was severely damaged and only a quarter of the nerves survived.
After 11 surgeries, Wang was finally able to resume his life, but he was paralyzed on the left side of hisbody.
After another year of painful rehabilitation under the dedicated care of his mother, who was an experienced nurse, Wang managed to walk without crutches and returned to the university in September 2007.
"I couldn't walk very steadily, nor could I control my left hand well. Architecture studies require a lot of onsite work, so I had to give it up," he said.
"But I managed to adjust my outlook pretty soon," he continued. "I believe one can always stand out with hard work in any field."
After switching into accounting, Wang had to take complicated courses such as advancedmathematics, probabilitytheory and linear algebra.
"Those courses were especially difficult for me. After the accident, I could feel an obvious decline in my memory and sense of logic," he said.
In the beginning, he failed some of the exams, but he took courses a second time and studied even harder.
"Finally I passed all of the exams. Though my marks were usually only a bit above the pass mark, it's still an accomplishment for me," he said.
The distances between classes, the dormitory and the canteen seemed especially long for him. Luckily, the university offered him a single room with better facilities and his mother hired him a nanny.
"Every day I need to walk at least half an hour from the dorm to the classroom. At first, the nanny accompanied me, but I gradually tried to walk there alone," he said. "I just don't want to trouble others."
He spends most of his limited spare time listening to music and watching NBA games.
"I used to play basketball a lot, but now I can only watch," Wang said. "That's not that bad - at least I'm still able to enjoy the games."
While most of his classmates are ready to land a job and start a career, Wang hasn't started job hunting yet.
"Unlike my classmates, I only have the energy to concentrate on one thing at a time. I just finished my essay and will start to look for a job after graduation," he said. "I wish to be an accounting teacher or look for a job in writing. I think I'm good at it."
However, he has reaped other rewards along the way.
After his story hit the media, Wang received a call from a girl at Nanjing Special Education College.
Wang remembers clearly that when they first met two years ago, she told him: "I didn't expect your condition to be so severe. I should have looked for you earlier."
The two stayed together and are planning to marry next year.