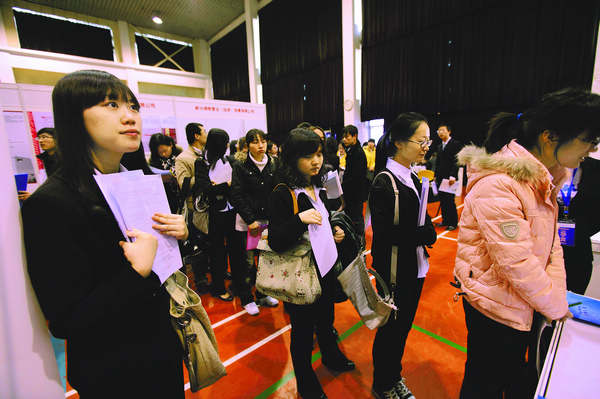 Students wait for interviews during a job fair at the University of International Business and Economics in March. [Gao Erqiang / China Daily]
BEIJING - In a move to relieve the city's population pressure, Beijing will introduce stricter restrictions on hukou, the permanent residency permit, for college graduates this year, a senior official said.
After graduation, college students' hukou revert to where they are from, unless they get settlement permits from the local government.
It was reported in May that only 6,000 non-Beijing native graduates will be granted a hukou this year though the number was 18,000 in 2010. However, the final decision will not be released till the end of this month.
Related readings:


 Cities asked to help grads obtain hukou


 No change in Beijing's hukou system

 Model migrants may get a shot at Beijing hukou


 Graduation is a ticket to Beijing Hukou
"The limited quota will give priority to elite graduates in certain majors," said Zhang Zude, vice-director of the Beijing Municipal Bureau of Human Resources and Social Security, at a working conference on Wednesday.
The city needs to adjust its "cultivation mode for talents" during the process of population control and changing economic development mode, according to Ding Xiangyang, vice-mayor of Beijing.
For example, there is an oversupply of graduates majoring in literature and history, while science graduates are in short supply, he said.
Beijing also wants to lure elite students in the commercial, tourism and logistics sectors, he added.
Around 229,000 students will graduate from college this year in the capital, of whom 98,000 are native Beijingers, 1,000 less than last year.
According to the bureau, Beijing will launch a series of measures to increase employment opportunities for this year's college graduates, one of which is encouraging graduates to consider setting up their own businesses. Graduates seeking self-employment can apply for loans, and enjoy favorable government policies, such as subsidies or tax rebates.
The capital also continues to boost employment by encouraging college graduates to become village officials and work at rural schools, rural health centers and community health service centers, said the bureau.
"We will launch a campaign to fight any illegal job agencies and employment discrimination," Zhang said.
Meanwhile, college graduates may soon have the chance to change their hukou to any place they work, except for the municipalities of Beijing, Shanghai, Tianjin and Chongqing, according to a recent announcement by the State Council.
A total of 6.6 million students will graduate from colleges across the country this year, 300,000 more than last year. The results of a survey released earlier this month show that more college graduates are finding jobs, with the employment rate back to the pre-financial crisis level and a significant rise in salaries.
The employment rate of college graduates has risen over the last two years to 89.6 percent in 2010, about 2 percentage points higher than that in 2007, according to a survey conducted by education research company MyCOS Institute.