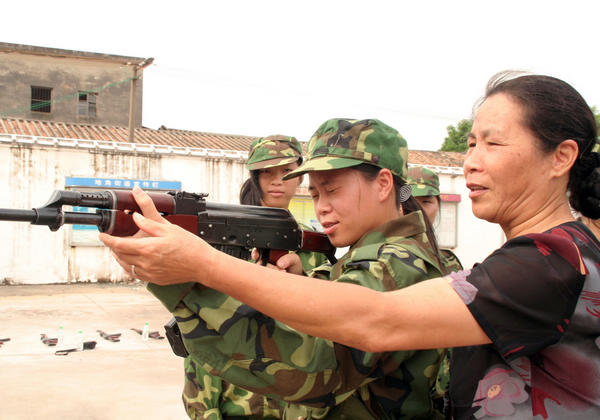 Long Xianlan, now 62, continues to serve as a volunteer coach for the community's still active women's militia group. [Photo / Provided to China Daily]
BEIHAI, Guangxi - Women hold up half the sky, according to a Chinese saying, and one of the iconic pillars keeping up her side is Long Xianlan.
In 1963, Long was 14 when she joined the nascent women's militia group in Beihai, a port city in today's Guangxi Zhuang autonomous region, and later became its commander.
She enlisted despite intense family objections and public scorn. She had no desire to follow her mother's plan to become a docile wife to an overbearing fisherman and rearing children, preferably sons.
The boat-dwellers' Dijiao community she grew up in had many derogatory social norms for women to protect their chastity and avoid unpleasant gossip, Long said.
Girls were discouraged from going to school. Long dropped out at 11 and her three younger sisters were not educated. Only her youngest brother, 10 years younger than Long, finished junior high school.
When Long first heard about women militia members in Dijiao, she saw a chance to break free from a strictly confined life at home.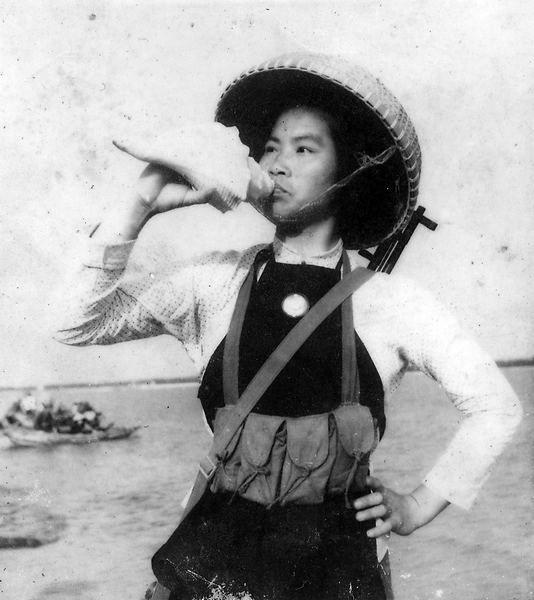 Long Xianlan was an iconic figure in the late 1960s when she became the commander of a women's militia group in Beihai. [Photo / Provided to China Daily]
Despite being scolded, spanked or occasionally locked up by her mother, Long found an ally in her father - an open-minded fisherman who softened the mother's edges and acquiesced to Long's ambitions.
Dijiao's first women militia group consisted of 30 members, all teenagers. They soon formed a strong bond and began to recruit more followers.
"All the early members were eager to challenge the traditions, change our own lives and remove the prejudices on women," Long recalled
Villagers, between skepticism and fear, would shut the door at the sight of Long's team, avoiding them like "ghosts" or "epidemic diseases".
Some of the other young women found their liberal ideas attractive, but were afraid of triggering a family uproar.
Long would explain the responsibility that fell upon women's shoulders to defend their homeland against perceived enemies, when men were out fishing.
By March 1963, the team had expanded to 120 members. Their remarkable confidence and performances during drills and patrols left villagers deeply impressed.
"We succeeded in proving that women can hold up half the sky and do whatever men are capable of doing, including handling guns," recalled Long, who continues to serve as a volunteer coach for the community's still active women's militia group.
Long had dreaded speaking in public, but as the leader and public face for the team, she had to overcome her timidity. Some army officers prescribed shock therapy, sending the girls on tasks in the woods or sometimes near graveyards in the evening.
Long's team helped with defense and security responsibilities, and joined hands in the construction of public facility projects such as the harbor in Beihai and the railway track between Zhicheng in Hubei province and Liuzhou in Guangxi.
Many members later moved on to promising positions at local banks, government departments and State-owned enterprises.
Long stayed until August 1972, when she was pregnant.
Afterwards, she became an effective official in different local government departments, and ran a textile factory for a few years.
Too consumed by work and public affairs, she entrusted her husband with matters at home.
"My case is not unique. Many women of my generation see the change in their roles in society and relations between husband and wife in a family," she said.
It has become a new norm with Beihai's boat-dwellers that women make the big decisions such as purchasing an apartment and building a boat.
"Women have had more chances to go out and get exposed to new things and ideas. They stay attuned to the latest developments. Men still concentrate on fishing and their lifestyle does not change much, so they get left behind," Long explained.
But men's attitudes toward women have also changed, Long said.
For example, Long's husband, a fisherman, longed for a son. But when their second daughter was born, Long was able to cheer him up easily by saying "Look, I am a woman, and I am as capable as a man".
Today, the group is tasked to facilitate economic development. They conduct regular checks at the port to prevent fire and thefts, assist local navy and public security forces, and offer practical help to people in need.