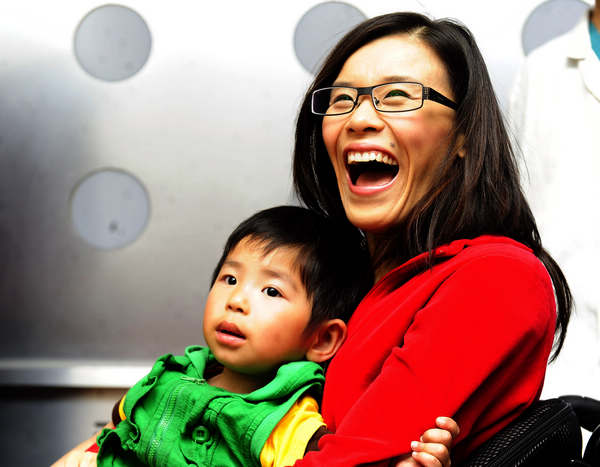 Disabled gymnast Sang Lan comforts a young boy from quake-hit Sichuan province during a charity event in Beijing on May 12. [Yang Tianxiao / for China Daily]
Paralyzed gymnast's legal battles highlight plight of injured athletes, Hu Yongqi reports in Beijing.
Chinese gymnast Sang Lan, who was paralyzed at the 1998 Goodwill Games in New York, will depart for the US on June 29 to settle an insurance dispute over her medical expenses.
Her lawyers say they have reached an agreement with TIG Insurance Co, which underwrote coverage for all athletes at the games, including $10 million for Sang.
TIG paid medical bills only for treatment Sang received in the US. Now it has agreed to also cover her treatment on the Chinese mainland, Sang's lawyers said.
Sang filed a lawsuit against TIG in April, saying its refusal to pay the bills "merely because she does not live in the US ... creates inequality based on nationality for (a) disabled person". Her complaint sought $100 million from the company.
Sang is scheduled to meet TIG managers on July 14 in New York.
During a warm-up for the games on July 22, 1998, Sang landed on her head, fractured and dislocated two vertebrae in her neck and injured her spinal cord. She is paralyzed from the chest down and has spent 13 years in a wheelchair.
The insurance dispute is only part of Sang's complaint, asking compensation totaling $1.8 billion, that brought three people and five institutions to the US District Court for the Southern District of New York on April 28.
The compensation amounts to $100 million for each of the 18 claims, which include breach of an agreement; violations of various federal, state and city laws; insurance violations; defamation; and negligence.
In her suit, Sang named three people and five institutions as defendants. They include media mogul Ted Turner, who founded the Goodwill Games; the former AOL Time Warner Inc; the US Gymnastics Federation; TIG; Riverstone Claims Management; and two legal guardians who were appointed to look after Sang following the accident.
People sent malicious messages to Sang on the Internet, said Hai Ming, head of Sang's nine lawyers in New York. "Some of them claimed (they would) kidnap her at the airport in New York or kill her." Last month, Sang's lawyers amended the lawsuit to add 17 people who threatened her online.
"Now Sang's personal security also becomes one of our priorities, and we will hire up to 10 bodyguards to protect her in case of potential dangers on her way to the court or meeting with insurance company managers," Hai said.