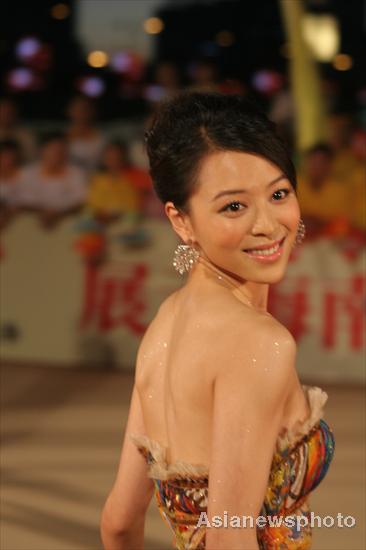 Zhang Jingchu attends the 14th Golden Rooster and Hundred Flowers Film Awards Ceremony in Sanya, Hainan province, in this Nov 12, 2005 file photo. [Photo/Asianewsphoto]
SHANGHAI - In her first decade as an actress, Zhang Jingchu has built a resume that many would envy: A starring role in an acclaimed Chinese drama that won the Berlin Silver Bear. A star-studded kung-fu epic featuring Donnie Yen. A German biopic. A Hollywood debut alongside Jackie Chan and Chris Tucker.
But the 31-year-old Chinese star says she's been disappointed by the commercial nature of her recent roles. So she decided to recharge with a six-month break in New York City, where she has been taking acting classes, watching plays and lingering in museums.
Four months into her career break, Zhang is now back in China briefly to serve as a jury member at the Shanghai International Film Festival.
"I am not satisfied with some of my recent commercial movies," she told The Associated Press. "When you have become what people perceive as a star, you don't really follow your heart when choosing roles. You think about whether the project is commercial enough, whether the cast is famous enough - you make a lot of decisions based on your status."
Zhang diplomatically refused to give examples, saying she didn't want to hurt the feelings of her collaborators. Among her recent productions are the Feng Xiaogang earthquake epic "Aftershock," in which she played a mistakenly labeled orphan who is reunited with her birth mother years later. She played a police officer in Benny Chan's sci-fi action film "City Under Siege" and took part in two smaller productions, the thriller "The Man Behind the Courtyard House" and the romance "The Law of Gravitation."
"It's just me who isn't satisfied with my performances and the way my characters ended up on screen. It doesn't mean that others didn't do a good job," she said.
Zhang said she has been rejuvenated by her stay in New York.
"It's like returning to my student days. It's been very quiet. And I have rediscovered my passion for my craft," she said.
Zhang, whose earlier credits include "Peacock," "Seven Swords," "John Rabe" and "Rush Hour 3," has immersed herself in the New York theater scene. She named "Jerusalem," "Good People," "Driving Miss Daisy" and a "The Merchant of Venice" production starring Al Pacino as some of her favorites.
She said she has been particularly impressed by the improvisation in American theater acting.
"You see how an actor plays with fire. When we act in movies, we are worried about continuity so we take a more conservative approach," she said.
Zhang has also found her stint on the Shanghai jury rewarding. The panel is chaired by "Rain Man" director Barry Levinson and also includes British screenwriter Christopher Hampton, Japanese filmmaker Yoichi Sai, French-Vietnamese director Tran Anh Hung, Spanish actress Paz Vega and Chinese director Wang Quanan.
"I feel honored that I am a member of this lineup. It's just a great education for me. It's the kind of class you can't find anywhere else," she said.