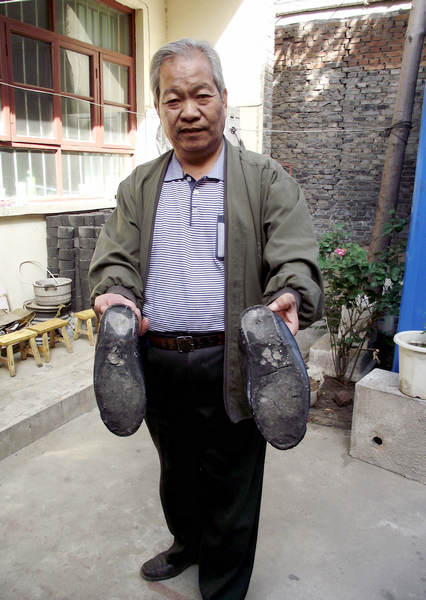 Hu Bingshen's shoes, which he wore for eight years, are wore out. Since his retirement a decade ago, Hu has led a very plain life and helped pay the debts for bankrupt enterprises he had guaranteed in Xiaxian county in Shanxi province. [Photo / Xinhua]
BEIJING - A retired life is usually thought of as a laid-back lifestyle, traveling, gardening and enjoying time with grandchildren.
For Hu Bingshen, 67, his retirement 10 years ago started with a nightmare.
As director of the township enterprise bureau of Xiaxian county in North China's Shanxi province, Hu had helped arrange loans for the county's small enterprises.
Many of them became successful, and Hu earned a reputation for turning barren mountains into orchards, brick factories and dams during his decades-long career as a government official.
But some of the companies failed and left their loans unpaid - and it was Hu as guarantor who was left with a bill of 390,000 yuan ($61,000), and an income of only 1,500 yuan a month, when he retired.
"Banks preferred to lend to Stated-owned enterprises, rather than private ones, most of whom were unable to ensure repayment," said Hu.
While director of the enterprise bureau, he became a frequent visitor to banks and big factories, trying to borrow money for the startups. At times, he even acted as guarantor.
Hu said he knew the risk when he guaranteed the loans, but there was no other way.
With their loans unpaid and hearing of Hu's retirement, angry lenders knocked at his door at night asking him to return their money.
Somebody suggested he ask for help from the local government, but he refused.
Finally, Hu promised the lenders he would pay their money back, and if he could not make it, his children would continue to do so.
Hu mortgaged his home and opened a small restaurant and later a massage shop and a grocery.
"People looked at me strangely, seeing a former official pulling a trolley to stock goods in the grocery. I felt so sorry for my wife, who never traveled out of town with me, but had to do farm work for villagers during harvest time for money in her 60s," said Hu.
Hu seriously thought about killing himself. When he decided to jump into the river in his hometown, he saw the large field of fruit trees that took root because of the startup funds he had provided.
"Even a barren mountain could become a sea of fruit trees. There was no hardship that couldn't be overcome," said Hu.
In 2004, Hu was invited to edit books about the development of the local economy and the culture and history of Xiaxian county, which was known as the capital of China's first Xia Dynasty (c. 21st century - 16th century BC).
Grateful factories and companies that Hu had helped gave a hand by sponsoring the editing of the books.
At the beginning of this year, Hu finally cleared up all of the debt, and he could start his retirement life, continuing his hobbies of writing poems and calligraphy.
"Every time I was about to break down, I imagined myself a commander in battle. I have the duty to provide my soldiers guns and bullets. After the battle, some survive and some have died. It is also my duty to bury the dead," Hu said.