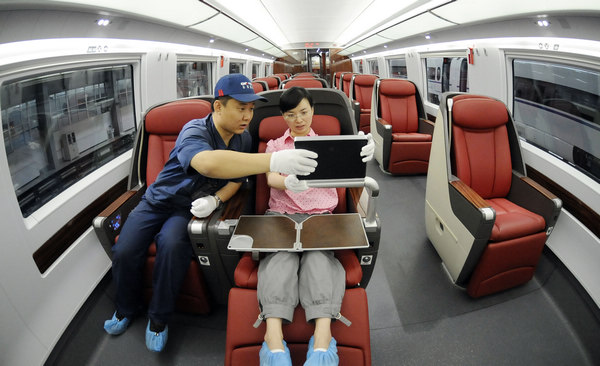 Two engineers test seats in a business-class car of a CRH380B high-speed train in Changchun, Jilin province, on Sunday. [Photo/Xinhua]
BEIJING - China's railway development will not slow down in the 12th Five-Year Plan period (2011-2015), Vice-Minister of Railways Hu Yadong said on Monday.
Railway planning for the five years aims to put 30,000 kilometers of new lines into operation, which is 87.5 percent more than for the 2006-2010 period, Hu said.
By 2015, the country's total length of railways will be more than 120,000 km, up from the current 91,000 km, he said.
The total investment in railways during the five years will be 2.8 trillion yuan ($432 billion), an increase of 41.4 percent from 2006-2010, according to Hu.
Yu Bangli, chief economist with the ministry, said that although financing for railways, like that for other industries, is subject to the impact of the macro-economic environment, "funds for railways can be guaranteed".
Based on these facts and figures, Hu said: "China's railway development will maintain a fast pace. Our pace will not slow down, and the investment will not be reduced."
But he did not mention any changes to previous plans for China's high-speed railways.
Related readings:


 High-speed rail link set for launch


 Beijing-Shanghai high-speed rail ticket price set


 China not slowing high-speed rail construction


 High-speed trains will have floating ticket prices
The ministry said in January that China's high-speed rail network had reached 8,358 km at the end of 2010 and is expected to exceed 13,000 km by 2012 and 16,000 km by 2020.
High-speed railways are incorporated as part of the country's "express railway network", which is expected to reach 45,000 km in length by 2015.
The express railway network includes railways of three speeds - arterial rail lines at a speed of 300 km/h, intercity and extension and linking lines at 200-250 km/h, and railways in western China with speeds of 160-200 km/h. But the ministry could not yet provide any figures for the length of such a network.
However, it is clear that the previous pattern of high-speed railway development has been changed following the fall of former minister Liu Zhijun, who was investigated for "serious disciplinary violations".
Railways Minister Sheng Guangzu, who replaced Liu in February, made it clear in April that railway development should not outpace demand too much.
He stressed in an interview with the People's Daily in April that the future work arrangement will give priority to ongoing projects to ensure they have enough funds for construction to be completed and will emphasize projects that are in urgent demand.
Since those comments, construction schedules for some railway projects have been altered.
Wang Yongping, the ministry spokesman, said in May that a few railway projects under construction, which were slated to be completed this year, will not be finished until next year.
This caused this year's investment in railway construction to be slashed by 100 billion yuan to 600 billion yuan.
Adjustments to some projects that had shortened construction time too much are reasonable, Wang said.