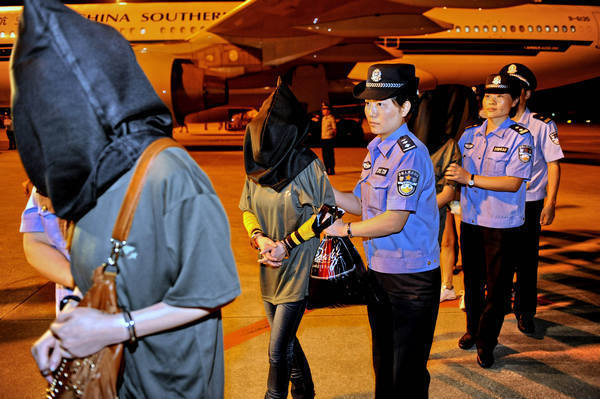 About 60 people suspected of being responsible for a spate of telecom swindles are escorted by police after being flown from Cambodia to Xiamen, Fujian province, on Friday. [Photo/Xinhua]
BEIJING - The Chinese Ministry of Public Security announced on Saturday that the mainland and Taiwan have started a joint police investigation to find the culprits behind a spate of telecom swindles.
Working with their counterparts from Cambodia, Indonesia, Malaysia and Thailand, the officials have detained 186 mainlanders, 410 Taiwan residents, one Cambodian and one Vietnamese - 598 suspects in total.
Mainland and Taiwan police, with help from police in several Southeast Asian countries, have destroyed 106 bases of the swindling operations and captured the bankcards, computers, cell phones and other belongings of suspects in the case.
Telecom swindling, a new type of crime in which people are cheated through the use of telecommunication devices, has claimed many victims in recent years.
Meng Jianzhu, State councilor and minister of public security, has ordered local police departments to study the crime and to work together with telecommunications, banking and foreign affairs departments to fight it.
The recently discovered swindling ring contained more bases of operation and employed more criminals than any similar ring known to authorities, according to Bai Shaokang, director of the Ministry of Public Security's crime investigation department.
Bai said the bust provided an example of the cooperation that can occur between police forces from both sides of the Straits, as well as with the police departments of other countries.
Since December, a number of large cases of telecom swindling have taken place in Chongqing municipality and Shaanxi, Hunan and Fujian provinces and Taiwan. The ministry began investigating the cases while exchanging information and opinions with police in Taiwan.
Later, the mainland and Taiwan police forces learned the leaders of the criminal group were hiding in Taiwan, while most of the bases of the swindling operation and the related money-laundering operations were in Cambodia and Indonesia, as well as in China's Guangdong province and Chongqing.
The police began on June 9 to round up people they suspected of being complicit in the swindling, capturing 26 in the mainland, 162 in Taiwan, 188 in Cambodia, 177 in Indonesia, 37 in Malaysia, and eight in Thailand.
More than 60 mainland suspects arrived in Xiamen, Fujian, on Friday after being flown in from Cambodia. Another 77, these coming from Indonesia, arrived in Beijing on Saturday night.