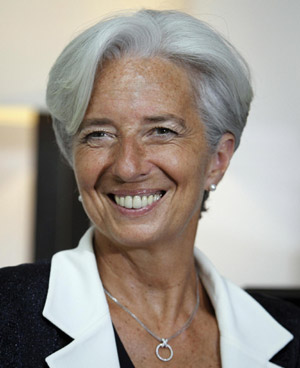 French Finance Minister Christine Lagarde smiles as she takes questions during a news conference in New Delhi June 7, 2011. [Photo/Agencies] 
BEIJING - Chinese Vice Premier Wang Qishan met here Wednesday afternoon with visiting French Minister of Economy, Finance and Industry Christine Lagarde.
Lagarde said she wanted to introduce her bid for the top job at the International Monetary Fund (IMF) during her visit to China.
"I am here not to officially ask for China's backing, but I hope to introduce my bid," she said at the beginning of the meeting, adding "China is very important for the IMF."
Lagarde said she highly values an open, transparent and merit-based process that needs to be abided by during the selection for the position.
The post fell vacant when former IMF chief Dominique Strauss-Kahn resigned after he was arrested on the charge of sexually assaulting a hotel maid in New York.
According to a press release issued by Wang's office after the meeting, the two officials also exchanged views on issues including the Group of 20 summit in Cannes, and the reform of international financial organizations and international economic norms and standards.
Lagarde flew to Beijing from India, and China is one stop of Lagarde's global tour to court countries' support for her bid.
Prior to the meeting, Lagarde visited the People's Bank of China, and she was scheduled to visit Chinese Foreign Ministry later Wednesday, according to the People's Bank of China.