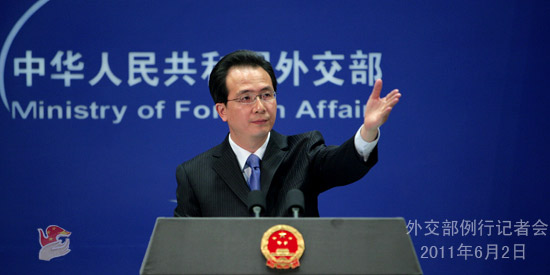 Foreign Ministry spokesman Hong Lei invites a question from a journalist at a regular press coference in Beijing, June 2, 2011. [mfa.gov.cn] 
BEIJING – China rejected Thursday Google's allegations that it is behind hacking attacks on hundreds of personal Gmail accounts, including those of US government officials.
"Allegations that the Chinese government supports hacking activities are completely unfounded and made with ulterior motives," Foreign Ministry spokesman Hong Lei told reporters Thursday.
Google said Wednesday that personal Gmail accounts of several hundred people, including senior US government officials, military personnel and political activists, had been breached by hackers based in Jinan, China.
'China has stood firmly against activities that sabotage Internet and computer security, including hacking, and resolutely cracks down on it,' Hong said.
Hong told reporters that hacking was a global problem and Chinese networks had also been targeted by hackers.
US authorities were investigating Google's disclosure, the coordinator for cyber issues at the US State Department said Thursday in London. Google said all of the hacking victims have been notified and their accounts have been secured.
This time around, the hackers appeared to rely on tactics commonly used to fool people into believing they are dealing with someone they know or a company that they trust. Once these "phishing" expeditions get the information needed to break into an email account, the access can be used to send messages that dupe other victims.
The Pentagon said Thursday it had very little information since the reported breaches involved personal accounts rather than government email. And since the accounts were not official, the US Department of Defense was unaware if the targeted individuals were defense employees, the statement said.
China's Xinhua News Agency said in an unsigned commentary Thursday that Google "provided no solid proof" to support its claims that the hack attacks originated in China.
Xinhua said Google's compaints had "become obstacles for enhancing global trust between stakeholders in cyberspace."