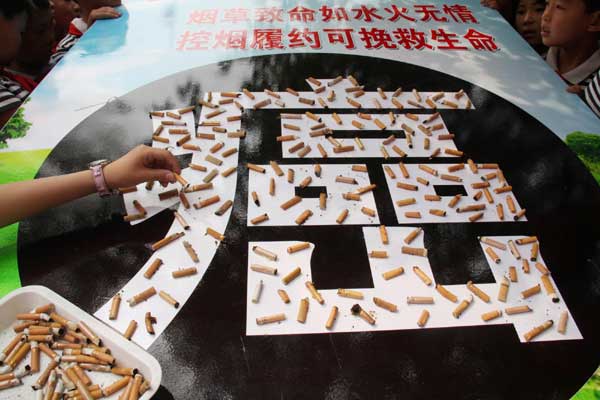 Pupils in Zaozhuang city, East China's Shandong province, collect cigarette butts on May 30, 2011, to add to a warning board reading "cancer" in Chinese, to call for people to quit smoking. The activity was held to commemorate World No-Tobacco Day, which falls on May 31. [Photo/Xinhua]
BEIJING - The northeastern city of Harbin has banned indoor smoking in public areas just before World No Tobacco Day, which falls on Tuesday, but health experts say enacting and enforcing laws in China that are consistent with the World Health Organization (WHO) recommendations is not easy.
The Regulations on the Control of Harm Posed by Second-hand Smoke, endorsed by the legislature of Harbin, capital of Heilongjiang Province, last Thursday, defines all public indoor areas as "public places," and outlines penalties for smokers who light up in such places.
Related readings:

 WHO hopes China strengthen tobacco industry control


 Lawmaker proposes tobacco sales bans around schools


 Tighter smoking ban expected in Guangzhou


 Laws are only way to stop smoking, say CDC officials
Restaurants, schools and hospitals face penalties if people smoke on their premises, according to the regulations. Fines can range from 2,000 to 30,000 yuan ($308 to 4,626). Also, businesses can be forced to close temporarily if they break the new law.
Wang Zhongmin, an official with Harbin's Office of Legislative Affairs, says the law is not designed to deprive people of their right to smoke but protect non-smokers from being harmed from inhaling second-hand smoke.
China has more than 300 million smokers, most of whom are males. About 740 million people, including 180 million children and teenagers, were exposed to second-hand smoke in 2010, according to a report recently published by the Chinese Center for Disease Control and Prevention (China CDC).
The law is the country's first specifically designed to reduce the harms posed by second-hand smoke.
HURDLES
Besides Harbin, indoor smoking bans in the cities of Tianjin, Chongqing, Nanchang, Shenzhen and Shenyang are being discussed by the local legislatures.
But for a country where lighting a cigarette in public is common, the passing of tobacco-free legislation is no straight-forward process.
In Nanchang, capital city of eastern Jiangxi province, the Draft Regulation on the Control of Harm Posed by Second-hand Smoke has been shelved after a second reading by Nanchang Municipal People's Congress last December, because the "toughest draft" completely banned smoking in many public places, including government offices, restaurants, bars, and other entertainment venues.
Lawmakers who oppose the law say that while it met the WHO's recommendations, it was too "tough" and "difficult to enforce" in China.
However, health experts argue that a partial ban on smoking indoors does not provide enough protection to non-smokers.
Yang Jie, a tobacco control officer with China CDC, says the watering down of the regulation reflects the tremendous challenges tobacco control efforts face in China.
China ratified the WHO Framework Convention on Tobacco Control in 2003, pledging to effectively curb tobacco use, including smoke-free legislation, placing large and clear warnings on the harmful effects of tobacco on cigarette packs, as well as total bans on all forms of tobacco advertising, promotion and sponsorship.
But implementation has been slow as the government placed the work group overseeing the treaty's implementation into the hands of people with close ties to the tobacco industry, China CDC's deputy director, Yang Gonghuan and other health experts have said.