How the world media covered events in China three decades ago
To much of the world, China remained a mystery in the summer of 1981, when China Daily came into being.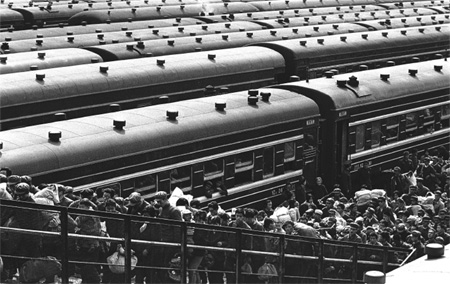 A bustling Yongdingmen Railway Station in Beijing in 1981. Wang Wenlan / China Daily
The country's economic reforms were just 3 years old, and the first group of students admitted through the college entrance exam, which had been reinstated in 1977, had graduated.
The country was cautiously opening its doors again to the world, and the world was curious to peek inside. The Cold War, sanctions and distrust made China seem so different, and misinterpretation was common. But some visitors saw themselves as adventurous explorers in an alien environment. This is evident in the foreign press coverage of China in 1981, some of which we excerpt today.
The scope of general interest in China was limited to lifestyles, customs and regulations, all of which were, quite literally, a world apart from the lives of many outside this country.
Now, in 2011, China is more familiar to the outside world. As its influence continues to expand, the country no longer seems as mysterious and incomprehensible as it did 30 years ago.
True, misunderstandings and rumors still abound. But the country's own voice, from growing indigenous outlets such as China Daily, has grown stronger, more confident and far-reaching.
China today, by all measures, is not the China of 1981. The country has matured in its ability to communicate with the world around it. The history of China Daily itself bears testament to this shift.
The selection of news coverage about China in 1981, in the paragraphs that follow, is not intended to merely raise a laugh. Granted, many of the items appear comical, if not bizarre, to today's young readers. But without this historic context it is impossible to understand how far China has come. History, as we all shall learn, should be respected, for people cannot make their history under conditions of their own choosing.
It is in this spirit that China Daily, on the eve of its 30th anniversary, brings to readers the faces of a different China, when some of the country's best reporters and editors were called upon to create this newspaper.
May history enlighten our work today and tomorrow, as the paper goes on to discover China's daily transformation in this changing world.
'National pride has been growing' with the country since 1981, when the world saw mystery and quaintness in the People's Republic of China. Reported by Duan Yan, Wang Yan, Hu Yinan, Cui Jia, He Na, Hu Yongqi, Xu Wei and Zhang Yuchen.
Economy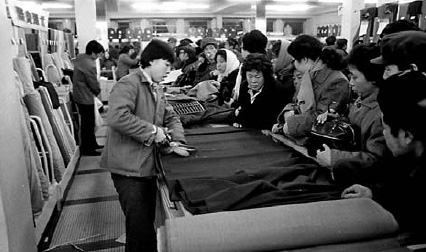 Ration coupons were still required to buy cloth, but a selection of fabric drew customers to Beijing Department Store on Wangfujing Street in 1983. Provided to China Daily
At the start of China's gradual transition from central planning to a free-market economy, foreign exchange certificates were issued in exchange for foreign currency. Most purveyors of goods and services for foreigners, such as hotels and special shops, accepted only the certificates and refused Chinese money.
Ration coupons, which symbolized the central planning economy, were introduced in the 1950s and still widely used in the 1980s. People needed them to buy sugar, cloth and cooking oil.
Use of the certificates and coupons ended in the 1990s.
Reports from the West
New restrictions went into effect Wednesday to keep Chinese from using China's special money for foreigners to buy imported televisions and tape recorders in special stores.
Huge crowds poured into Peking's "Friendship Store" on Monday and Tuesday to beat the restrictions. The store is intended primarily for foreigners and accepts only the certificates issued to foreigners in exchange for foreign currency. The special store's prices are generally cheaper than in Chinese stores.
The Associated Press
July 15, 1981
Theoretically the foreign-exchange certificates are accepted anywhere, but off the beaten tourist path they may not be. Boatwomen in a central Chinese park refused them, asking for "real" money.
"Trickle of foreign money being traded in China"
Christian Science Monitor
Aug 31, 1981
Her title, Maid of Cotton, suggests a staid figure, but Karie Ross is actually an ebullient young woman. A journalism student at the University of Oklahoma, Miss Ross is a goodwill ambassador for the National Cotton Council of the United States. During the next seven months, she will be touring Canada, Spain, China and Japan trying to stir more public interest in cotton garments. Her job will be formidable in China, where cloth is rationed and individual allotments are as low as six meters a year..
"She travels for cotton"
The Globe and Mail
April 14, 1981
Current comments
Zuo Xiaolei, chief economist at China Galaxy Securities: "Foreign exchange certificates and ration coupons existed because there were supply shortages in the central planning economy. The market economy unleashed our productivity. What we are facing now, however, is an oversupply.Aninvisible hand usuallyleadsmarketsto allocate resources efficiently in a market economy. But our government still plays a big role in many sectors, and the supply and demand were unable to adjust efficiently.Future economic reform is needed."