BEIJING - Electricity prices for industrial use will be raised on Wednesday in 15 regions to combat power shortages, amid concerns over increasing manufacturing costs and a slowdown in production.
The National Development and Reform Commission (NDRC), the nation's top economic planner, announced that prices will rise by an average 0.0167 yuan (0.25 cents) per kilowatt-hour in the first retail power price rise since 2009.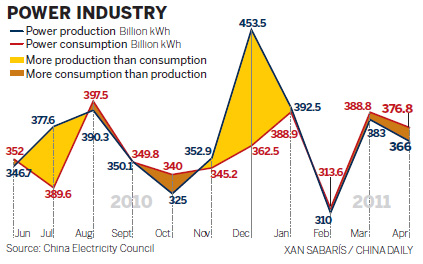 The electricity price for residents remains unchanged, the NDRC said.
The decision was not an easy one as inflation is a major concern of the government and the monthly consumer price index (CPI), the main gauge of inflation, exceeded 5 percent twice this year already, Liu Shujie, director of the Economic Research Institute under the NDRC, said.
Though the government is tackling inflation, energy prices continue to rise. The government raised retail fuel prices last month, for the second time this year.
More than 20 provincial regions have experienced power cuts this year due to electricity shortages.
Related:
China looks set for the worst summer power shortages since at least 2004 as demand growth remains strong while coal-fired power plants, which generate 80 percent of national electricity output, have restricted production due to operating losses resulting from high coal costs.
At the same time, hydropower has been hit by a drought in central China, including Hubei province, home of the Three Gorges Dam, the world's biggest hydropower project.
The nation experienced a shortage of 18 million kilowatts by May 10.
The State Grid Corp of China said last week that the country might see the worst electricity supply shortfall in history.
Xu Hongcai, an economist at the China Center for International Economic Exchanges, said that the NDRC's move to raise electricity prices will further increase production costs, especially for small and medium-sized enterprises (SMEs).
"Higher electricity prices, together with soaring raw material and labor costs, will worsen the business environment for SMEs," Xu said.
He said that the producer price index (PPI) is likely to go up in the short term because of increasing production costs. That may see the CPI hit new highs.
"Some of the SMEs may reduce production or even go bankrupt," Xu said.
The 15 regions include coal-rich Shanxi province in the north and Hainan province in the south, as well as Qinghai, Gansu, Jiangxi, Shandong, Anhui, Henan, Hubei, Guizhou, Sichuan and Hebei provinces and Chongqing municipality.
However, the price hike was necessary, said an official who declined to be named.
"Rising energy prices are good for energy conservation and will continue," said the NDRC official.
China cannot sustain a 9 percent GDP growth on the back of 12 percent energy consumption growth, he said.
Other economists and officials also defended the hike.
A number of factors have caused the shortage of electricity, including rising demand, a decline of hydropower and soaring coal prices, Li Ying, chief economist at the State Grid Energy Research Institute, said.
Li said a number of power companies are facing severe financial losses and the price increase will help them.
Jiang Kejun, a researcher of the Energy Research Institute of the NDRC, said raising electricity prices will help ease power shortages because many coal-fired power plants are losing money due to the high cost of coal.
Lin Boqiang, director of the China Center for Energy Economics Research at Xiamen University, said the price rise will make high energy-consuming companies reduce production.
Many regions already raised on-grid electricity prices, paid by the grid to power companies, by an average of 0.02 yuan since April 10.
The first quarter saw electricity use rise 12.7 percent year-on-year to 1.09 trillion kilowatt-hours, according to the National Energy Administration.
A total of 17 provinces and regions surpassed the average growth rate. The Xinjiang Uygur autonomous region's electricity use rose 33.9 percent.
Electricity use in high- energy consuming industries, such as battery manufacturing, surged higher than the average level.
"China's central and western areas attracted a lot of transferred industries from the coastal areas after the financial crisis, and many of them consume a lot of energy," said Wu Libo, deputy director of the Center for Energy Economics and Strategic Research at Fudan University in Shanghai.