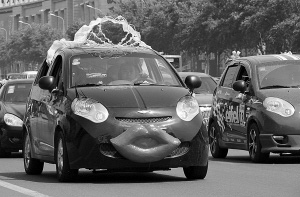 "Am I beautiful?" A small car with lovely ornaments runs drives among the motorcade to receive the bride in Changchun city, capital of Northeast China's Jilin province, May 29, 2011. [Photo/City Evening News]
A bride was deeply touched when her imaginative bridegroom organized an economic but lovely motorcade in Changchun city, capital of Northeast China's Jilin province, to pick up and escort the bride and her family on their wedding day, May 29, 2011, City Evening News reported Monday.
The motorcade comprised of 50 small, low-emission cars were elaborately decorated by the bridegroom with hats, garlands, cravats and even a set of red lips.
The bridegroom got the original idea off the Internet and then asked for support from the members of a car club which he belongs to. He had no expectation that so many of his peers would volunteer to be involved. All of the cars in the motorcade were driven by their owners - car club members - and the bridegroom did all of the decorating himself.
It was also a very economical motorcade, as the cars were all the same model and cost only 40,000 yuan ($6,169) each, and the club members drove them on the wedding day free of charge.
However, the low-cost and low-emission motorcade moved the bride to tears. "It was so touching and any other high-class motorcades would not have left me feel happier than this one," said the bride.
"I will cherish this memory for my whole life," the bride added.