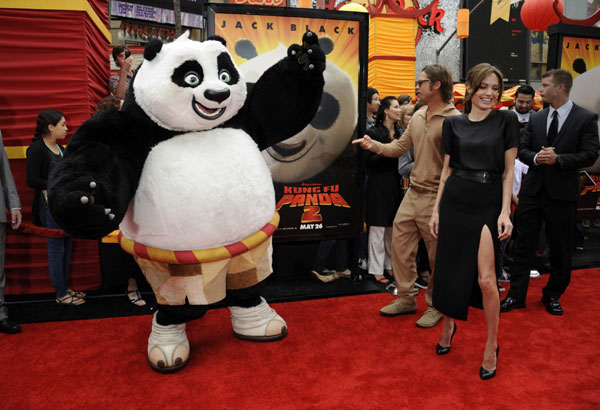 Cast member Angelina Jolie (R) and Brad Pitt attend the premiere of the film "Kung Fu Panda 2" in Los Angeles May 22, 2011.[Photo/Agencies] 
CHENGDU - Kung fu fanatic "Po", a clumsy panda with an undying love of noodles, will be making his triumphant to China this Saturday.
Raymond Zibach, production designer for "Kung Fu Panda 2", is confident that the film's box office returns will be twice as large as profits from the first film.
"Kung Fu Panda", which hit China's silver screens in July 2008, raked in about 200 million yuan ($30.8 million)
"The movies are quite different in their apperance," Zibach said at a press conference held on Thursday in Southwest China's Sichuan province.
"We got a lot of inspiration from Chengdu, from the architecture, the scenery and the weather. The second movie will be more true to life," he said.
According to Zibach, many elements of Chengdu will be depicted in the movie, including the province's landmark Mount Qingcheng, Taoist culture and the province's ubiquitous Sichuan-style noodles.
Mount Qingcheng's Pavilion of Nature makes an appearance at the end of the movie as well, according to Zibach.
"The pavilion was very interesting and inspiring, as it combines natural material with tradition architectural styles," Zibach said.
Mount Qingcheng is a historic Taoist landmark in China. The mountain is home to practitioners of Tai Chi kung fu, an ancient style of martial arts.
"Master Liu Suibin from Mount Qingcheng taught us some Tai Chi kung fu, which we applied to a new character, Lord Shen," Zibach said.
Unlike Tai Lung, an evil snow leopard who was the previous movie's main antagonist, Zibach noted that the new villain, Lord Shen, will be more "intelligent, elegant and powerful".
After the success of the first movie, the Chengdu municipal government invited a production team from DreamWorks Animation, the company responsible for creating the film, to come to the city to make contact with real pandas.
DreamWorks Animation CEO Jeffrey Katzenberg headed the team during their two-day visit to a panda breeding base in October 2008.
"We hoped to solve the problem of figuring out where Po came from," Katzenberg said.
The movie portrays Sichuan as Po's birthplace.
"Compared with the first movie, 'Kung Fu Panda 2' gives a more thorough depiction of Chinese culture, which hasn't always been done in Western movies," said Park Jinbum, a Korean director.
For his part, Master Liu Suibin was quite proud of his contribution to the film.
"More than 110 of the world's countries have people who are learning Chinese kung fu," he said. "The 'Kung Fu Panda' will certainly be welcomed by the rest of the world."