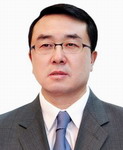 A crime-busting police chief famed for cracking down on organized crime has been elected Chongqing's vice mayor in a unanimous vote, Chongqing Evening News reported.
Wang Lijun was elected following the 14th session of the 3rd Standing Committee of Chongqing Municipal People's Congress after a vote on Friday morning.
Wang is well-known for his role in Chongqing's massive crackdown on crime syndicates in 2009, when he was appointed police chief, busting 375 gangs with more than 3,000 suspects arrested including high-rank officials who had been bribed by triad bosses.