Latest incident again puts company's image under a harsh spotlight, report Gao Changxin in Shanghai, and Hu Yongqi and Tuo Yannan in Beijing.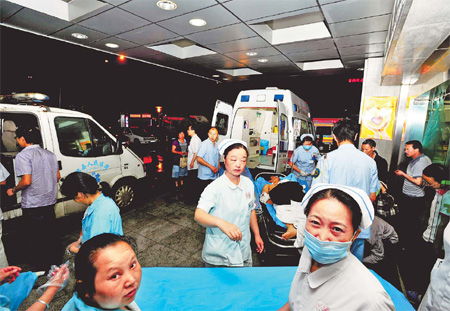 Doctors and nurses receive workers injured in an explosion Friday night at the Foxconn factory in Chengdu where iPad 2s are assembled. Two employees died and 16 were injured. Photos Provided to China Daily
Two workers died in an explosion at the iPad factory in Chengdu, capital of Sichuan province, on Friday evening. Sixteen others were injured, three seriously. The cause of the explosion was still under investigation late on Sunday.
The blast occurred, according to Xinhua News Agency, at about 7:20 pm in the polishing workshop of a company that is part of Taiwan-based electronic giant Foxconn, one of Apple Inc's most important partners for iPad assembly and parts production.
Related readings:


 Certainly iPad not the apple of my eye

 Beijing goes wild for iPad 2


 iPad 2 frenzy hits China


 Apple's iPad 2 madness lands in China
The factory went into operation seven months ago and is "an important production base for the iPad, Apple Inc's tablet computer", China Central Television (CCTV) reported.
"Apple Inc's iPad 2 is entirely assembled in China by Foxconn. The Chengdu plant accounts for two-thirds of Foxconn's iPad capacity," Tong Bin, an analyst with Shanghai-based iResearch Consulting Group, told China Daily.
The deaths on Friday followed a string of suicides and labor disputes involving Foxconn and its client, Apple. In 2010, 13 Foxconn workers jumped from the company's buildings in Shenzhen. Eleven died. Work safety authorities in March promised increased vigilance at a factory where eight workers were exposed to a chemical used to clean the apple-shaped logo on iPads.
Apple said it is "deeply saddened by the tragedy". By late Sunday, it had not responded to questions about the possible market effect of the Foxconn explosion, whether Apple's image would be tarnished and whether Apple would consider changing manufacturers.
In China, the price of iPad 2s on the "gray market" may rise, analysts said. Apple's Chinese online store says it has sold out of the new tablets. More than 800 customers lined up, many overnight, at the Apple shop in Beijing when the device was launched in China on May 6.
Investigation begun
The 16 injured workers were sent to nearby hospitals, according to Xinhua. The factory, in Pixian county of Chengdu, is owned by Hongfujin Precision Electronics Co Ltd, a subsidiary of Foxconn International Holdings Ltd.
CCTV reported at the site that there was heavy, suffocating smoke, but no fire was visible.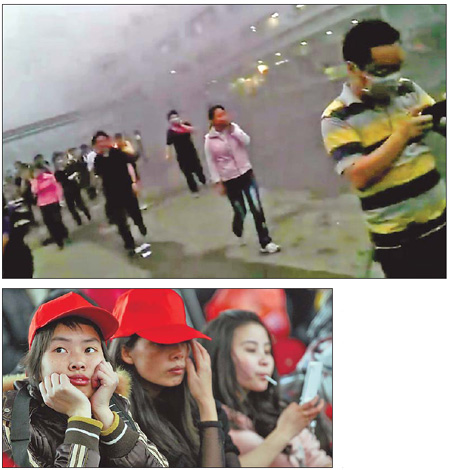 Top: Workers evacuate through smoke from a workshop blast at the Foxconn factory. Above: A handful among 177 newly hired Foxconn workers from Guizhou wait at the Guiyang railway station on March 1 before heading to Chengdu.
The explosion was loud. Workers and nearby residents heard the noise and felt the shock, the reporter said.
A preliminary police investigation has ruled out the possibility of a crime, while the cause of the accident is under investigation, Xinhua said.
Tai-Ming Gou, chairman and president of Hon Hai, Foxconn's parent, took a flight to Chengdu on Friday, Xinhua reported.
Foxconn spokesman Edmund Ding said on Saturday in an e-mail to the media that fire authorities had completely controlled the accident, and that Foxconn was doing its best to cooperate with the investigation while contacting families of the affected workers.
"Foxconn Chengdu has stopped all production in the factory compound where the explosion happened until a comprehensive investigation is completed," he said.
Foxconn did not respond on Sunday when contacted by China Daily.
Apple Inc said in an e-mailed statement: "We are deeply saddened by the tragedy at Foxconn's plant in Chengdu, and our hearts go out to the victims and their families. We are working closely with Foxconn to understand what caused this terrible event."