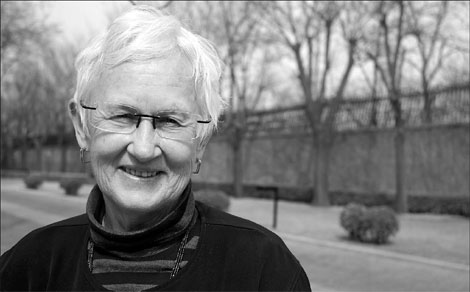 Kari Kveseth has more energy than anyone else a third her age, and she is enjoying her challenging role as Norway's counselor for science in China. [Photo/China Daily]

Norwegian grandmother has better things to do than quietly skiing off into retirement, Alexandra Leyton Espinoza discovers.
Kari Kveseth could be enjoying a peaceful retirement in Norway after years as a top research administrator. Instead, she is embarking on a new project as her country's first counselor for science in China. "I can't retire, I feel too young for that. I have been waiting for this opportunity," she said. In her former role as the international director at the Research Council of Norway, Kveseth had noticed an increasing interest for research consulting among international agencies. Her role there was to strengthen research cooperation among Europeans research program as well as maintaining traditional ties to North America. "In Europe, research consulting related to international cooperation is more systematic and well established. In China we saw the opportunity and the importance to establish new contacts and networks," she said.
Kveseth was fascinated by chemistry from a very early age, a fact for which she credits inspirational teachers. Science back in the 1970s, she says, was one of the many professional sectors dominated by men.
"When I started, very few women worked in this field. Still, it was better than physics, where there were no women at all," she said.
Kveseth recalls that when the English chemist Dorothy Crowfoot Hodgkin received the 1964 Nobel Prize in Chemistry, she was asked by a reporter if the reason for women being interested particularly in structural chemistry was because they were fond of embroidery.
"She got really insulted by this question and told the reporter it had nothing to do with that," Kveseth says. "But this was the attitude many people had about women in this field," she said.
"In China I notice more and more opportunities for women. The challenge in China is for women to receive the same opportunities for academic achievement as men. In Norway, the opportunities are more equal and we have seen great changes in the last decades, although top leaders are still predominantly men also in academic institutions."
To be different and to "engage in something you are really fond of" has always been the key for success for Kveseth, and that is often-repeated advice she gives students.
"I try to tell young students to follow their ideas and try to realize them. If they have dreams that are difficult, they have to take the risk to maybe fail. But quite often if it doesn't happen at once, it will just drive you further, by not always taking the easiest path," she says.
She surely didn't. With her husband still living in Norway, Kveseth moved to Beijing on her own on a two-year contract instead of retiring. Her friends and family thought she was crazy.
"They wonder why I don't stay in Norway, go skiing, sit at home and get my pension. But I can't. And the fact that most of my family are in Norway gives me the opportunity to concentrate on work," she says.
On the other hand Dr. Kveseth has had time to grasp the Chinese culture, since her son, his Chinese wife and her two grandchildren live in Beijing. She calls herself a Chinese grandmother that prefers jogging in the park to doing tai chi.
The opportunity to develop research relationships in China was serendipitous: China and Norway made a political agreement in 2008 to increase cooperation with the ministries of research and higher education.
"My job is to be a bridge builder between science in Norway and science in China. To follow that agreement into daily workable actions," she said.
The Norwegian counselor for science in China cooperates with ministries in both countries as well as with other agencies and institutions of science and higher education in China. "We have similar areas of priority like energy research, different energy systems for the future, as well as in general to establish cooperation with different strong research groups in universities," she says.
Kveseth says carbon capture storage (CCS) is a big challenge Beijing and Oslo are eager to conquer. Both countries are investing heavily in this area.
"We have to do something with the CO2 emissions globally. Norway doesn't have this problem, since our electricity production comes from hydro power plants. But globally we have a responsibility to contribute to the development of more environmentally friendly energy production. We have to work together internationally in this issues and find solutions, the future has to build on modern systems that makes energy production more efficient and more sustainable. Cooperation with China in this area is a very promising step," she said.
A more strategic cooperation is with the biggest universities in China and Norway: Visualize what is going on now and how it's going to be in the future. "And there is no better place to share visions and establish relationships than in the top schools of the country," she says.
She has found the first year of her contract to be interesting and challenging.
"If things are difficult, I love it! The Chinese sports brand Li Ning has a slogan; Anything is Possible. I am a great believer in that: "The more difficult, the more challenging, the greater is my drive," she says.
"I am by nature an inquisitive person," she says in an interview published in the Research Council newsletter after her move to China. "This spirit of enquiry has meant that I am interested in most research fields and has allowed me access to many exciting processes."
In her early years, she says, she found an outlet for her curiosity in the forest terrain of Nordmarka outside Oslo. As a young woman she was a scout leader and was always keen to take her patrol on adventurous expeditions. Her former scouts describe her as a tough, but likeable, patrol leader.
Once when the patrol was in the mountains they woke up to find the camp covered in a thin layer of snow. The scout girls stormed into her tent and yelled: "Kari, it's snowing!" And from the depths of Kari's sleeping bag they heard the muffled, sleepy reply: "Well then, whittle yourselves some skis."