Many marginalized people unable to avail of free professional service, reports Wang Yan in Gansu.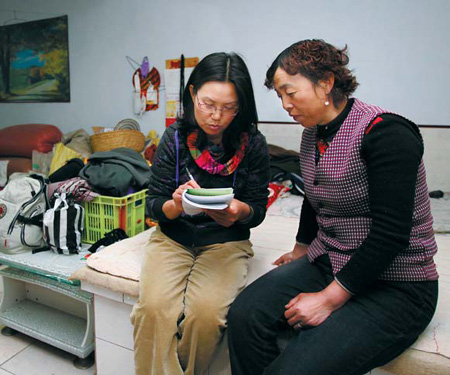 Lawyer Ma Lan (left), who specializes in legal aid, visits one of her former clients, Wang Qin, in Shandan county, Gansu province, in April. Wang Jing / China Daily
Migrant worker Sun Yong, 45, survived the highway crash in May 2010 that killed five of his friends. The car he was in hit a tree in Qomul and caught fire. Passers-by rushed to the scene but, despite their best efforts, Sun was the only person they managed to rescue.
Sun suffered severe injuries, including burns and his legs were broken. His family, wife Wang Qin and their two teenagers back home in Shandan county, Gansu province, encountered financial hardship as Sun, the sole wage earner, was no longer able to do heavy work.
Their situation worsened, Wang said. The father of one crash victim filed a lawsuit against her husband and asked for 200,000 yuan ($30,750) in compensation. The lawsuit said that Sun, as the car's owner, was partly to blame.
Then Wang and Sun (not their real names) found Ma Lan, a Shandan-based lawyer. Ma told the court that Sun did not own the car - a friend had bought it using Sun's name - and was not driving when the accident happened. The court ruled in September that Sun bore no responsibility for the accident and was not liable for compensation.
How much did Sun and Wang pay their lawyer? "Nothing," Ma said. "It's my job. I'm a legal aid lawyer."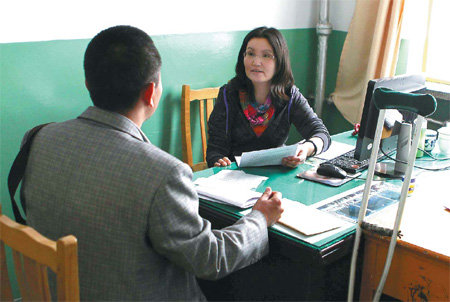 Ma Lan offers advice to a client who was involved in a traffic accident in Shandan county, Gansu province. There is a huge demand for legal aid, particularly in western and central areas. Wang Jing / China Daily
Legal aid services are provided free to disadvantaged groups, including the disabled, the elderly, minors and migrant workers. However, not all qualified people are covered yet.
"In 2010, the number of cases that received legal aid was 700,000 . . . The annual increase of legal aid cases from 2005 to 2010 was 26 percent," said Sun Jianying, chief of the legal aid department in the Ministry of Justice. Yet she said more than 2 million cases need legal aid services each year in China, particularly in western areas.
Xie Dan, deputy director-general of the Gansu Justice Department, agrees. In his western province, Xie said, "1.2 million people need legal aid services. That is 42 percent of the entire population." But only 3 percent, 36,000, received legal aid from 2008 to 2010.
The lack of legal professionals, especially lawyers, is a major factor: 213 poverty-stricken central and western counties have no access to lawyers, and more than 500 counties have only one or two lawyers each, said legal aid chief Sun.
Data from the ministry show that the number of legal aid lawyers in China dwindled by 10 percent from 2005 to 2010, though there was an uptick last year to 4,508. Meanwhile, the number of other lawyers increased 30 percent, to 200,000. Only 5,000 of them work in the underdeveloped central and western regions.
"It's a common phenomenon that lawyers flow to the more developed areas," said Wang Wanglin, also from the legal aid department of the ministry. "In Jiangsu, for example, about 70 to 80 percent of the lawyers are based in the capital city of Nanjing."
There's little financial incentive to work in the poor west, where Wang said a lawyer's income could be about 5,000 to 6,000 yuan a year.
By tradition more than necessity, western Chinese tend to use legal procedures as a last resort. They are more likely to adopt "moral solutions" - finding the fairest way to resolve a dispute, perhaps through mediation by esteemed senior villagers. The old-fashioned practice has its merits, but it "has hidden a large amount of need," Wang said.
'One Plus One'
To bring in legal talent and promote judicial fairness, the Ministry of Justice and the China Legal Aid Foundation jointly launched the "One Plus One" Legal Aid Volunteer Project in 2009. It aims to send at least one lawyer and one law school graduate to each of the poor counties in 13 provinces and autonomous regions in the central and western parts of China.
Ma Lan, the lawyer who helped Sun and Wang (and advised that, for privacy reasons, their real names not be used), joined the project last year. She arrived in Shandan in July and became the only lawyer in the county.
Ma said her goal was to "do as much as possible" and that she did not care about the size of a case.
"Most of the cases I handled were small, ranging from family and villagers' disputes to lost livestock and fake seeds or fertilizer to migrant workers' rights. They usually didn't involve a huge amount of compensation."
The cases required her diligence, though, because "600-yuan compensation could mean everything for a farmer although it may be nothing for a city dweller".