EU program will drastically increase operating costs for airlines, reports Li Jing in Beijing.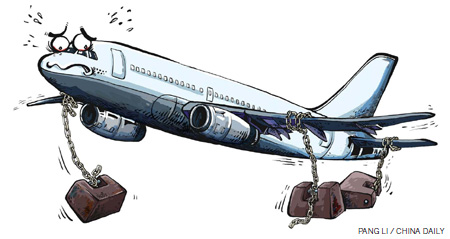 Watch out, frequent travelers between China and Europe. You may have to pay more for flights starting next year to offset your carbon footprint.
The European Union has set Jan 1 as the starting date for all flights, incoming and departing from the continent, to meet emission limits or pay penalties for breaking them.
The four Chinese airlines - Air China, China Eastern Airlines, China Southern Airlines and HNA Group - that operate flights between China and Europe have been asked to abide by the rule.
The airlines have protested strongly, criticizing the EU's emission program as a "unilateral and indirect" mechanism that violates widely accepted principles on fighting climate change. However, experts say China's chances of being exempted from the program are slim.
This is the first time that China's companies have been assigned the same obligations to deal with carbon emissions as their competitors in industrialized nations. China is still a developing nation, but experts say that as one of the world's top carbon emitters it should prepare for similar challenges in the future.
Both Chinese airlines and the country's aviation regulator have voiced strong opposition to EU's cap-and-trade approach to reining in the aviation industry's carbon emissions. They say the program fails to reflect the differences in responsibilities for developing and developed countries in the fight against climate change, where only the rich groups are obliged to cut their carbon emissions.
"The EU needs to take into account the different development status of countries," Li Jiaxiang, head of the Civil Aviation Administration of China, said on May 10 in Beijing.
Days before the remark, China Air Transport Association (CATA) issued a more blunt statement declaring the Chinese industry does not recognize a unilateral mechanism that "violates international aviation convention and intrudes into China's national sovereignty".
It said the association may suggest that the Chinese government take harsher countermeasures against flights in and out of China operated by airlines from EU countries.
The statement also said the EU plan is defective because it relies on indirect cap-and-trade measures that "cannot produce any direct, practical effect on energy saving and emission reduction".
Billions to pay
The EU approved a proposal in 2008 to include the aviation industry in its Emission Trading Scheme (ETS) after emissions from the sector had doubled since 1990. Such emissions account for around 3 percent of the EU's total carbon footprint.
Starting next year, airlines landing in Europe will be forced to buy carbon credits to cover each ton of carbon emission they emit in excess of the cap. The EU listed 2,000 airlines globally under its plan, with 33 of them from China's mainland, Hong Kong and Macao.
EU gives exemptions for airlines whose annual carbon emissions are below 10,000 tons. That roughly equals the carbon footprint of 22 single trips between Shanghai and Brussels with a Boeing 777 aircraft.
According to the industry's calculation, China's airlines would have to pay 743 million yuan ($114 million) in 2012 alone. If the airlines added one flight between China and Europe each week, that would add 15 million yuan to the cost. The annual bill could reach more than 3 billion yuan by 2020.
Analysts say this would dramatically increase the airlines' operation costs and hinder further development of China's burgeoning aviation industry. The timing is problematic because major Chinese airlines are eyeing stronger expansion in overseas routes and face increased competition domestically from the spreading network of high-speed railways.
European countries are among the top destinations for Chinese travelers. For instance, Air China recently added flights to Dusseldorf, Germany, and to Milan and is planning to open new routes to Europe, according to Kong Dong, the airline's chairman.
The increased cost would likely be passed on to passengers.
"At this stage I'd say (Chinese airlines) are not going to take the step (to join the plan) . . . as we don't recognize ETS," said Chai Haibo, CATA's deputy secretary-general. "But if finally the airlines are forced to pay for the carbon credits, I'm afraid that the travelers will have to pay more for their tickets."
Chai would not estimate the size of the fare increase, but an earlier report by China Central Television put it at 200 to 300 yuan for each single trip between China and European countries.
Domestic plan
Isaac Valero-Ladron, the European Commission's climate spokesman, said on May 11 that the EU is examining whether China could earn an exemption from the program thanks to its domestic plan. The European legislation offers an option to exclude incoming and departing flights from a non-EU country if the airline's nation implements equivalent measures to cut pollution from aviation.
"We need to analyze the details of the Chinese plan to curb emissions from airlines," he was quoted by Bloomberg as saying. "Regardless of their nationality, all carriers must be treated equally to avoid distortion of competition. We have been and will continue to be open to discuss how to best combine our efforts in addressing the impact of aviation."
China has set a target, by 2020, to reduce carbon emissions for each unit of economic growth by 40 to 45 percent from 2005 levels. As part of that move, the country's aviation regulator also asked all airline carriers to cut energy and carbon intensity by 22 percent during the same period.
Such a plan could fall short of the expectations of the EU, which prefers a cap on carbon emissions, said Zhang Jianyu, China program manager of the US-based Environmental Defense Fund.
"Even with this carbon intensity cut, China's greenhouse gas emissions in the aviation industry are still set to grow, while EU's cap-and-trade system is aimed at reducing the total amount of carbon emissions by the sector," Zhang said.
Chai said CATA sent a negotiation group to the European Commission's headquarters in Brussels in early May, but is still waiting for an official response from EU. He is not optimistic about the result. "The EU side said they understand our concerns, but the law to extend ETS was passed by the European Parliament, leaving it little room for change," he said in a telephone interview with China Daily.
He also said CATA is prepared to sue EU if the program includes Chinese airlines. The prospects there are not encouraging, judging from the experience of three major airlines from the United States.
United and Continental, which merged last year, and American filed a case in late 2009, at the High Court in London, against the extension of ETS to most international flights into and out of European airports. The British court referred the case nearly a year ago to the European Court of Justice in Luxembourg for a preliminary ruling. The US airlines are still waiting for a hearing date.
EU moving faster
Yang Fuqiang, a senior consultant on climate change and energy at the US-based Natural Resources and Defense Council, said the aviation sector is a "delicate choice" by EU to extend its carbon-pricing system to the rest of the world. Designing the rules is relatively easy, Yang said, and calculating emissions is less complicated than in other industrial sectors.
ETS, launched in 2005, now covers 12,000 power plants, factories and other industrial facilities. It is the world's largest cap-and-trade system dealing with carbon emissions. By setting limits on greenhouse gases and then allowing companies to buy and sell permits corresponding to their emission levels, such a system offers an economic and effective way to curb emissions. It also encourages innovation in green technologies.
With this system, EU is moving much faster than individual developed countries in cutting carbon emissions.
EU has long sought to engage other major economies, such as the US, Japan and China, in carrying out similar efforts to reduce carbon emissions. Emission-cutting efforts could be under bilateral or multilateral mechanisms, as long as the countries work to reduce carbon emissions. But international negotiation on overall climate solutions is in a stalemate, so the outlook for a multilateral mechanism is gloomy.
Yang said the EU is trying to "bring everybody to sit down and have a talk" on dealing with global aviation's carbon footprint. The sector accounts for about 3.5 percent of the world's total greenhouse gas emissions.
More than 190 countries are negotiating toward a legally binding agreement by the end of this year. Ideally, the global deal would provide comprehensive solutions to combat global warming and would be based on the universally accepted principle of "common but differentiated responsibilities", which exempts developing countries from obligations to cut emissions of greenhouse gases.
More to come
Given the facts that China is one of the world's two biggest greenhouse gas emitters (with the United States) and its economy continues to grow, experts say it will become the target of similar unilateral programs, despite its efforts to bring down carbon intensity domestically.
"China should better prepare itself for similar cases and work out better tactics, instead of just saying no," Yang said. "This would require extensive research work by think tanks in the country."
EU's move is an alert to China's business sectors that it is time to face the climate challenge seriously. Otherwise, they are bound to face more strains on carbon emissions in future global competition.
"The same is true for the whole country," Yang said. "Now we can still use the developing status to refuse the carbon reduction obligations, but by 2020, China will have to shoulder more responsibilities as a major world power.
"There is not much time left."