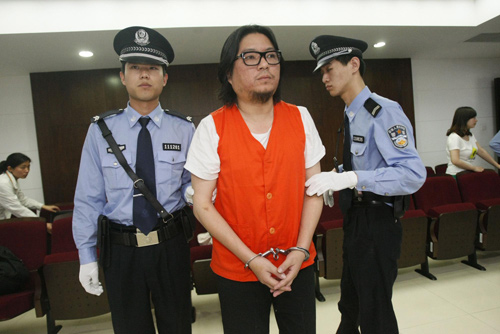 Chinese pop song writer Gao Xiaosong is escorted in court in Beijing May 16, 2011.  [Photo/Xinhua]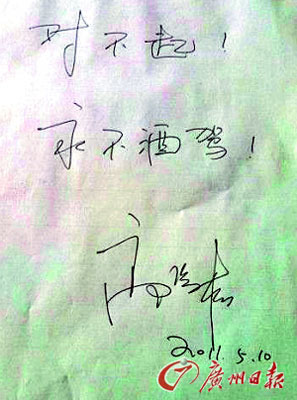 A handwritten note by Gao Xiaosong says "Sorry! I'll never drunk-drive." [Photo/ Guangzhou Daily]
More stories about Gao's drunk-driving:
Gao caught drunk driving; face jail terms; hypocrisy disclosed
Famous Chinese pop star Gao Xiaosong has had his driving license revoked for drunk driving, China Central Television (CCTV) reports.
Gao was deprived of his right to drive for five years and fined 1,000 yuan ($153) as he pays off his drunk-driving misdeed, according to the Beijing police department.
The China's Got Talent judge, who is currently in police custody, will stand trial May 17 and may face a jail term of one to six months under China's newly amended Road Traffic Safety Law that took effect on May 1.
Gao, who rose to fame in the 1990s for his campus ballad "My Deskmate," was driving away from a late-night feast at a downtown Beijing hotel last Monday when his white Infiniti SUV hit a car stopped for a red light at an intersection of Dongzhimenwai Street.
The collision caused a pile-up involving two other cars, but no injuries were reported.