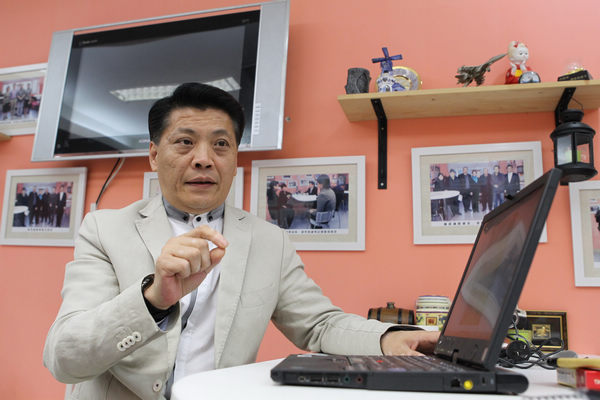 Niu Xiaohua, 52, headmaster of Beijing No 2 Middle School, talks on May 4 about his innovation programs to hopefully nurture a Chinese Nobel Prize winner. [Photo/China Daily]
BEIJING - Sitting on a tall stool and leaning against a bar in the school's staff cafeteria, it is hard to associate this 52-year-old fast-talking and smiling Beijing native with the stereotypical stern-faced schoolmasters usually found in the world's most populous nation.
Surviving the tension between anxious parents who have pinned unreasonably high hopes on the performance of their only children in core subjects, and the demand to develop creative talent in a quickly evolving society, Niu Xiaohua doesn't deny the pressure of his position.
"I often say if you're a schoolmaster in China, you can be a schoolmaster anywhere in the world," Niu said, laughing.
The principal of Beijing No 2 Middle School said that, theoretically, a child's education requires all-around effort from parents, school and society.
However, most parents tend to downplay their own role in education, Niu said.
"In the end, parents and society pin too much, sometimes irrational, hope on the school for their child's education," said the schoolmaster, who has worked in the school since 1982, first as a physics teacher before becoming principal in 2001.
"But this is the reality we have to face and change."
Niu said he is grateful to be able to preside over a 287-year-old school with long-standing recognition for its excellent academic performance.
The school, one of the city's best, has an admission rate into high-profile universities of 95 percent over the past decade.
"Like most people in the field of education, one thing I had been pondering is why China has yet to produce a Nobel Prize winner?" asked Niu, who has become one of the city's most revered educational experts for his series of innovation programs to further educational progress.
Niu believes the answer lies in the development of children's personal interests, which tend to be ignored in the highly intensive score-driven race through their school education.
Personal interest in a subject is the origin of creativity and happiness, which Niu can attest to himself.
Despite his strong interest in photography, Niu had never really put his hands on a camera until 2008, when he finally decided to give his interest a go.
Over the past several years, Niu has carried his camera around in the school, even when he chairs a conference.
"Most of the time the teachers and the students don't find me in the chairperson's seat during a meeting because I'm moving around taking photos," Niu said, laughing.
"You can't imagine the enjoyment I've found in photography and how much relaxation and inspiration it has brought to me," Niu continued, showing a series of photos he took in the school - a snapshot of a smiling student or a corner of the school's canteen showing a play of shadow and light.
So Niu set out to create a homely environment in the school where students feel free to develop their own interests.
During the school's expansion, he added many venues, like the cafe, to facilitate communication between teachers and students.
"I hope I might help create a space for the students to ponder their own strengths and interests and then tap into them to build their own future," Niu said. "We, as teachers, are only their helping hands."
This year, Niu said, he is especially pleased about the admission of student Li Hange to Southwest University of Science and Technology in Sichuan province as a biology major.
Li, also known as "Spiderman" in the school, has been interested in insects, especially spiders, since he was 10. He has been breeding and observing dozens of spiders at home, and has completed a number of scientific reports published in professional journals.
By the time Li joined Beijing No 2 Middle School for his senior high school education, he had so many spiders to take care of that he required professional facilities to continue. So the school decided to set up a lab just for him - the first of its kind in the country's middle school named after a student.
"Li is not a top student in our school, but he has sustained a personal interest and excelled in biology," Niu said. "It would be a pity for him to drop that personal interest because of any restraints that we can help remove."
Li will have to close his lab in one month upon graduation, but he will have a new and bigger one in the university, which for Niu is "quite a relief".
"I'm glad that we didn't bury his interest over the past three years, otherwise we could have buried a real talent who one day might grow into a real scientist or even a Nobel Prize winner," Niu said, laughing.