HONG KONG - China has raised the reserve requirement ratios (RRR) for banks for the fifth time this year to restrain price rises.
The move, which came on Thursday evening, underscores the risk that tightening measures will cause a slowdown in the world's second-biggest economy.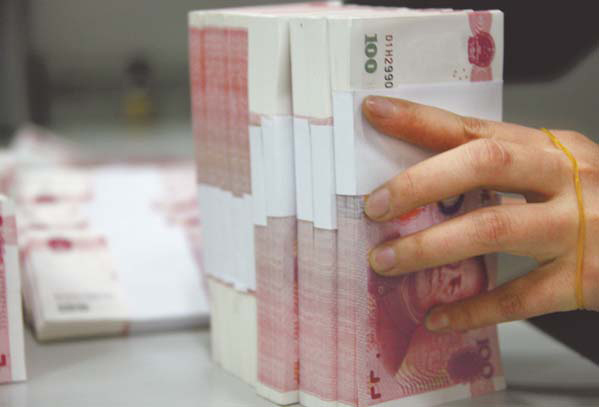 China has raised the reserve requirement ratios for banks for the fifth time this year to mop up excessive liquidity and curb rising inflation. [Photo/China Daily] 
Reserve ratios will increase by 0.5 percentage point from May 18, the People's Bank of China, the central bank, said on its website. That will boost RRR levels for the nation's biggest lenders to a record 21 percent.
The central bank moved after reports on Wednesday showed inflation and lending exceeded economists' estimates in April, with consumer prices rising more than 5 percent for a second month. Premier Wen Jiabao aims to tame inflation while sustaining growth amid signs the economy is cooling after an expansion that peaked at 11.9 percent last year.
"Controlling inflation will definitely entail a slowdown in growth and the authorities understand that," said Wang Qing, chief China economist at Morgan Stanley. "The slowdown we've seen so far doesn't indicate there is a risk of a hard landing, that's why the policy priority at the moment is still to control inflation."
Besides raising interest rates and reserve requirements, and guiding banks to limit credit growth, the yuan broke 6.5 a dollar for the first time since 1993 on April 29. A stronger yuan helps to reduce import costs.
Weaker growth in industrial production, detailed in Wednesday's report from the statistics bureau in Beijing, came after a manufacturing index declined in April, signaling that growth may be cooling after a 9.7 percent expansion in the first quarter.
Power shortages in some provinces may also have affected the output numbers.
The reserve requirement move locks up about 370 billion yuan ($57 billion), according to Barclays Capital. It may have been triggered by the extra cash entering the financial system from maturing central bank bills, according to Royal Bank of Scotland Plc.
Inflows of so-called "hot money", or speculative capital, may also have been a factor, said Lu Ting, a Hong Kong-based economist for Bank of America Merrill Lynch.
The central government aims to prevent increases in food and housing costs. Consumer prices jumped 5.4 percent in March, the most since July 2008. In April, the gain was 5.3 percent.
Higher commodity costs, inflows of capital, and the extra cash in the economy, from a stimulus program started in late 2008, have added to inflation risks, analysts said. The nation's foreign-exchange reserves exceeded $3 trillion for the first time in March.
Bloomberg News