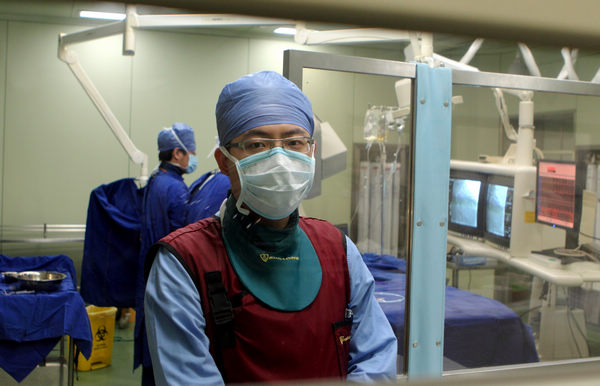 Liu Lijun, a male nurse in Shanghai Xinhua Hospital, prepares equipment for an operation on Tuesday morning. [Photo/China Daily]
SHANGHAI - Liu Lijun won't be surprised if he is overlooked today on International Nurses Day.
"Many people think I'm a doctor," said the 24-year-old Shanghai native, whose smile beams through his mask. "I wish I were."
Of more than 1,300 nurses at the Shanghai Xinhua Hospital, only 14 are male.
"People always returned a compliment when my parents said their son was studying at a prestigious medical school. But their expression of approval soon turned to astonishment after my parents added that I was specializing in nursing," said Liu, laughing at the stereotype people usually hold toward the nursing profession.
"Many people think that nursing is an occupation for females, and this holds many young men back from what could be a very satisfying career," Liu continued, referring to his two years of practice as a nurse.
He said nursing is actually not the job people imagine it to be. It is far more complex than simply drawing blood, taking notes, giving injections and dispensing medicine.
"It's both physically and emotionally demanding," Liu said.
He wakes up at 7 am and in less than an hour arrives at the hospital, which is about a 10-minute walk away.
On a normal morning, he helps out with half a dozen heart operations, wearing a 10-kilogram anti-radiation garment.
He keeps an attentive eye on monitors for blood pressure, heartbeat and other key indicators, and offers the right tools at the right moment. At times, he has to answer questions from patients' relatives waiting anxiously in the hallway.
After a very short lunch break, the routine resumes in the afternoon.
There is a huge demand in China for professionally trained nurses, especially male nurses.
Statistics from the Ministry of Health reveal that the country had nearly 1.9 million nurses, almost equivalent to the number of registered doctors, in 2009. An ideal ratio of doctors and nurses is roughly 1:2, which means the country is short 1.9 million nurses.
"Each trade has a champion," said Liu, citing a traditional Chinese saying.
However, Liu's optimism got dampened during his internship in 2008.
"I was helping a teenage girl, trying to remove her intravenous drips. She started to cry just at the sight of me," Liu recalled.
"The hospital finally had to get a female nurse to calm the girl down. I was very depressed then - was I that frightening?"
But Liu soon regained his confidence, showing more flexibility handling various monitors and more calmness during emergencies.
Recognition came soon after he became a full-time nurse when he met a patient he had helped as an intern one and a half years earlier.
"When he saw me, he recognized me at once," Liu said. "This really heartened me. Many patients come and go each day. I never thought a patient would still remember me after one and a half years. It's quite an acknowledgement of my presence and work. All my efforts became worthwhile."
As usual for a nurse, Liu has to be on standby 24-hours a day during holidays.
But that's not the hardest part.
Serving in the cardiology department, Liu has witnessed too many struggles on the borderline between life and death.
"When I was an intern, I always felt depressed and helpless when faced with the deaths of patients. We tried everything to save their lives, but they still leave us," Liu said.
"Now I can face and accept death with a gentle and natural state of mind because I gradually realized that death is part of life. What I can do is provide enough emotional care at the point of death, letting them die with dignity."
Liu said he often finds time to talk with patients.
"Sometimes, a few words of comfort can make patients know that they are not alone."