HONG KONG - The Bun Scrambling Competition, the finale of the 2011 Bun Carnival on Hong Kong's Cheung Chau island, was held late Tuesday, attracting about 1,500 spectators to witness the fierce competition.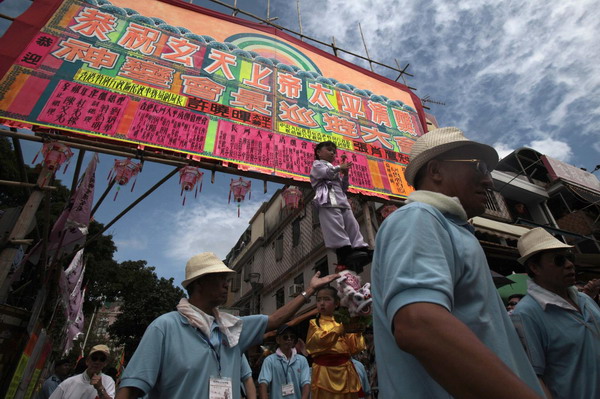 A young performer is supported with a rig of hidden metal rods as she participates in a Bun Festival parade in Hong Kong's Cheung Chau island May 11, 2011. The festival celebrates the islanders' deliverance from famine many centuries ago and is meant to placate ghosts and restless spirits.  [Photo/Agencies]
After the nail biting contest, the championship of the men's team went to Cheung Man-cheung, who scored 919 marks, while the winner of the women's team was Lisa Cheng Lai-sho, scoring 687 marks.
The competition, kicked off by Raymond Young, permanent secretary for Home Affairs of the city government, attracted nine men and three women finalists snatching as many buns as they could within three minutes atop the 14-meter bun tower.
Divided into three zones, the bun tower was studded with buns from top to bottom, with each bun carrying a score of nine, three and one respectively in each zone. The contestant who has obtained the highest total scores from all the buns grabbed was the champion.
The 2011 Bun Carnival is jointly organized by the Hong Kong Cheung Chau Bun Festival Committee and the Leisure and Cultural Services Department between April 23 and May 11. A wide array of activities, including the Bun Scrambling Competition, play-ins during the climbing carnival and invitation relays, were staged during the period.