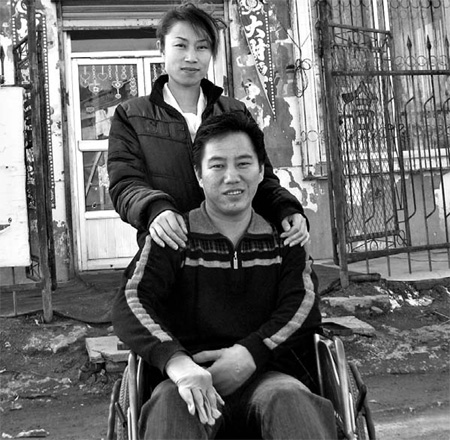 Song Xuewen, who lost both of his legs and left arm to radiation, met his wife at the low point in his life and called her the sweetest candy from his chocolate box of life. [Photo/China Daily]
BEIJING - From time to time Song Xuewen remembers the words of Forrest Gump: "Life is like a box of chocolates, you never know what you're gonna get."
Those words still run through the 35-year-old's head as he recalls how times of bitter suffering were followed by such sweetness.
It was back in 1996 that Song, then a laborer at the Jilin Chemical Construction Company, picked up a glittering chain laying on the ground and put it in his pocket.
Unknown to him, the chain was radioactive, and had been left behind by workers who used it to test project results.
"I was only 19. I had no knowledge about radiation and what effects it could have on me," Song told China Daily wistfully.
"All I knew was there was severe pain across my body, which drowned out my consciousness and blocked my thoughts," Song said.
Because of the damage to his body from the gamma rays, doctors ended up amputating both of his legs and his left arm.
He underwent seven major surgeries in Beijing and was sent back to Jilin province, but the company was unwilling to shoulder his medical fees, which led to a court case.
"I was exhausted and alone," Song said. "I felt the world had discarded me."
It was at his lowest point that he reached back into that box of chocolates.
He was in a hotel on a cold December night, when he felt the need to release his sorrow.
He saw the telephone beside his bed, but with no idea who he was going to call, he just gazed at it for hours, filled with hesitation and anxiety.
"Finally, I grabbed the receiver and dialed a number randomly," Song said.
It was 5 am.
A woman answered.
"To start the conversation, I lied to her that it was my birthday and asked for her wishes," Song said with a shy smile.
However, just like Forrest Gump not knowing what he was going to get, the woman not only wished him happy birthday, but talked with him for nearly three hours.
"We just talked about hobbies and feelings, and seemed like old friends," Song said.
Now maybe some might think that this only happens in movie (more on that later) but an even bigger miracle lay in store for Song as the two stayed in touch and - cue the music - were eventually married.
"She didn't look down on me after knowing I was disabled, but gave me more love instead," Song said.
With her help, Song won his case in 2002.
"Her replies to my calls gave me hope and she was the sweetest candy that seasoned my bitterest days. Her sunny attitude opened my heart and got me away from self-contempt," he said.
"Perhaps love is really a magic stick. People never know what they can get until they taste it."
In 2004, Song published his autobiography.
"Strangely, I had this confidence built inside me that those bitter days couldn't beat me. With my wife's company and support, somehow I had changed my negative attitude to life and decided to look ahead," Song said.
Since Song had become infertile because of the radiation, the couple set up a kindergarten in their hometown, a remote village in Jilin province, in 2008.
"The kindergarten is not only the dream of my wife and I, but also our way to say thank you to those who helped me," he said.
In March, Stand Up, a film adapted from his story and performed by him, hit the big screen.
"It is love lighting up my dim life. It is my wife telling me that the most horrible thing is not a useless body, but an unused mind," he said.
"I was the lucky one, because I met and bravely grasped my sweetest chocolate. Now I know how it tastes," he said.
Song still suffers soreness from the radiation, but he is no longer desperate.
"Now I believe life is beautiful and its taste depends on one's attitude to life, so I'm willing to try different chocolates in the future, though I don't know what they will taste like," he added.