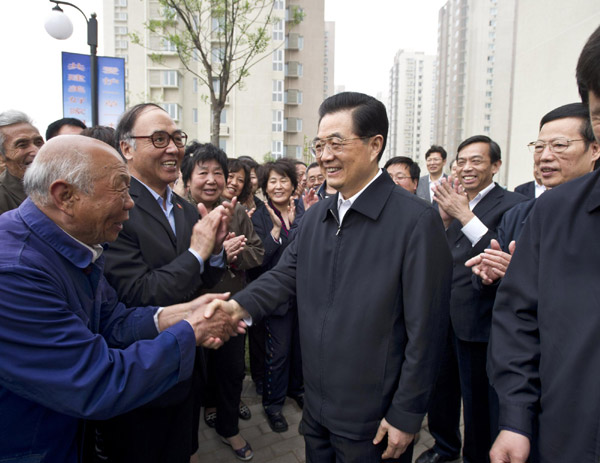 Chinese president Hu Jintao (C) shakes hands with a local resident at a residential community in Tianjin, May 1, 2011. [Photo/Xinhua]
TIANJIN - Chinese President Hu Jintao has urged local governments to make greater efforts in developing public rental housing units for the country's medium- and low-income earners during a recent inspection tour to the northern city of Tianjin.
Local governments should give priority to the development of public rental housing by continuously increasing capital investment and prioritizing the allocation of land for the projects, Hu said during the tour from April 29 to May 1.
"Meanwhile, the policies that govern the allocation of such housing units should be improved," he said, adding every effort should be made to ensure more medium- and low-income earners have access to housing.
Hu made the remarks while visiting Qiuyi Jiayuan, a residential community in Beichen District, Tianjin, on Friday. More than 1,300 public rental housing units were newly built in the community, and some have already been rented to medium- and low-income residents.
At the community, Hu visited Xu Shujuan, a retired worker. Xu said her poor three-member family used to live in a housing unit as small as 20 square meters, but now they have an apartment of 68 square meters thanks to the government-sponsored public rental housing program.
The Chinese government is giving greater support in the building of housing units that specifically target low-income groups, Hu said.
Also, during a visit to Tianjin Product Quality Inspection Technology Research Institute, Hu said inspection efforts must be tightened to guard the safety of food products for the public.
On Saturday, Hu visited some companies and research institutes in the Tianjin Binhai New Area.
The achievements of Airbus (Tianjin) Final Assembly Co., Ltd., a successful Sino-Europe cooperation project, has demonstrated that China-Europe cooperation has great potentials and broad prospects, Hu said, while visiting the company.
"I hope that the cooperation between China and Europe will produce more fruits," the president said.
Further, Hu noted that China's aviation market will continue its growth in the upcoming period and China and Airbus should step up their cooperation.
Additionally, Hu heard a work report from local officials on Tianjin's future development plan on Sunday.
Hu urged efforts be made to accelerate the speed of development of Tianjin, especially the Binhai New Area, by taking advantage of the country's policy of supporting eastern regions to take the lead in China's development, as a whole.
During the visit, Hu, on behalf of the central authorities, extended to the country's industrial workers, farmers and intellectuals, and working people of various circles, festival greetings as the International Labor Day fell on Sunday.