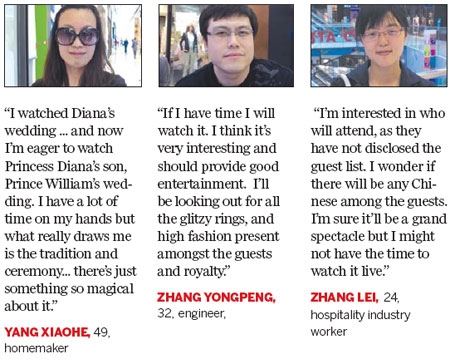 Work commitments, lack of interest compelling reasons, says a survey by internet company tencent
Less than a day before the royal wedding of Prince William and Kate Middleton at Westminster Abbey, a new survey of over 10,000 Chinese people shows that only 33 percent of the respondents are interested in the event and that too for its glitz and glamour.
However, over a million Chinese people are expected to watch the event live on Phoenix TV, the only domestic network airing the wedding live.
Shao Le, 30, an office worker in Beijing, is one such viewer. She is getting married on May 2 and is rather keen on checking out the design of Kate Middleton's wedding trousseau and how her own dress matches up to it.
"I'm not really interested in the wedding at all. But what caught my eye in the beginning was the ring that William proposed to Kate with," says Shao. "I'm more interested in seeing what kind of dress Kate will be wearing, what her bridesmaids are dressed in, and what kind of designer labels will be present."
The poll, conducted by Chinese Internet company Tencent, shows that 57 percent of the respondents are interested in the wedding as a spectacle, while 36 percent are interested in it solely for the glitz and glam.
Of course well-wishers are abundant among the viewers too. Homemaker Yang Xiaohe says she watched Princess Diana's wedding to Charles in 1981 while abroad, and also watched Prince Charles' wedding to Camilla in 2005. This time around she will view the nuptials.
"I have a lot of time on my hand, but what really draws me is the tradition and ceremony, there isn't anything akin to royalty in China and there's just something so magical about it," she says.
China's national television station CCTV has declined to comment on their coverage of the royal wedding, and Phoenix TV is the only television station scheduled to broadcast the event live. But Chinese are also finding other ways to watch the ceremony. Some say they will watch it live via Phoenix TV, others say they will watch it on cable television.
Because April 29 is a working day in China, many have decided that if at all they have to watch the ceremony it has to be a deferred viewing.
The British embassy in China has started a micro blog on Sina Weibo offering free memorabilia to netizens who follow the event. As of April 25, the micro blog has over 200,000 followers.
Zhang Lei, 24, a hospitality industry worker, has decided that she will watch the royal wedding but is unsure if she has the time to watch it live on television. She says that what interests her about the wedding is the guests.
"I'm interested in who will attend as the guest list has not been revealed. I am wondering if there would be any Chinese participation," says Zhang.
"I'm sure it'll be a grand spectacle but I might not have the time to watch it live. Most probably I will watch it online."
Echoing similar sentiments is Zhang Yongpeng, 32, an engineer. He says that he would not be able to catch the event live due to work commitments, but will try and watch it later online or read about it in the newspapers.
"If I have the time, I will certainly watch it. It is very interesting and should provide good entertainment," says Zhang. "I'll be looking out for all the glitzy rings and high fashion amongst the audience and royal family, I'm really looking forward to seeing how Kate Middleton will look during the procession."