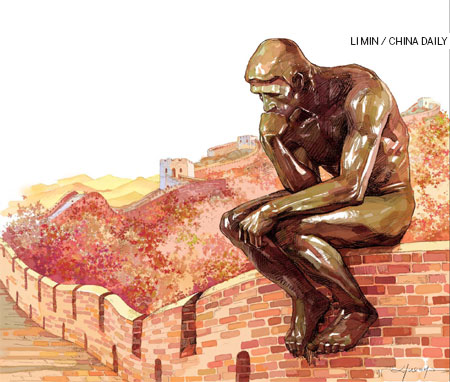 EU think tanks ponder united policy on China to deal with country's growing global importance
Two years on from a damning report about the European Union's approach to its relationship with China, Europe's political classes are looking toward the continent's think tanks in search of a greater understanding of the Middle Kingdom.
In 2009, the European Council on Foreign Relations (ECFR) wrote of Europe's outdated approach to an ever-changing China, comparing EU policy to a game of chess in which the 27 member states squabble over which piece to move. It argued that Europe's approach had been rendered obsolete by China's growing power.
Related readings:


 Putting China on the global map


 Turning understanding into euros


 Shaping the world


 It takes two to tango for progress


 Benefits of putting Europe under a microscope
Two years on, Jonas Parello-Plesner, a senior research fellow at the ECFR, is keen to reinforce the message.
"We need a coherent Europe to match up with the new China. At the moment China has to run around the different states and also Brussels. A more unified Europe would benefit China in having a more reliable partner to negotiate with."
Europe's search for this elusive unified China policy is increasingly focusing itself in Brussels, a city now established as the center of Europe's China debate. It is rare for a week to pass without the city hosting some manner of lecture, debate or roundtable focusing on different aspects of China.
The scope of debate is perhaps the most surprising thing. Recent events around the city have looked at everything from niche topics such as maritime policy, to broader debates of economic or geopolitical matters. The events attract speakers and delegates from around the world, as well as senior decision makers from across Europe.
One organization regularly hosting such events is the Brussels Institute of Contemporary China Studies (BICCS), which was set up in 2006 to address Europe's growing interest in contemporary China. The institute aims to increase European understanding of contemporary China and its impact on world affairs.
"It was always my experience that in Europe, the view we had about China was not what I had seen when I was there on the spot," says Gustaaf Geeraerts, founder and director of BICCS.
"I always had this wish to set up an institute that could provide more balanced information on what was happening in China.
"It is certain that China is going to affect our lives more and more. Our future welfare will be determined to a large extent by what China is doing. Our mission is to develop a more strategic view of how to deal with China in the next 10 to 20 years. It is important to have a good idea of what China's identity really is."
Geeraerts, who has visited China more than 60 times over the past 14 years, is well placed to provide answers to these questions. In the five years since BICCS was established, he has watched interest in both China and his institute surge.
"The demands on our institute are growing exponentially and I feel there is a strong momentum at the moment. Europeans are realizing they are not well informed about China. I think there is now a strong sense that better information on China in needed."
The demand for this information is particularly high in Brussels, where Members of the European Parliament (MEPs) and commission officials demand up-to-date information on a country playing an increasingly larger role on the global stage.